Peanut Butter Banana Oatmeal Bars Recipe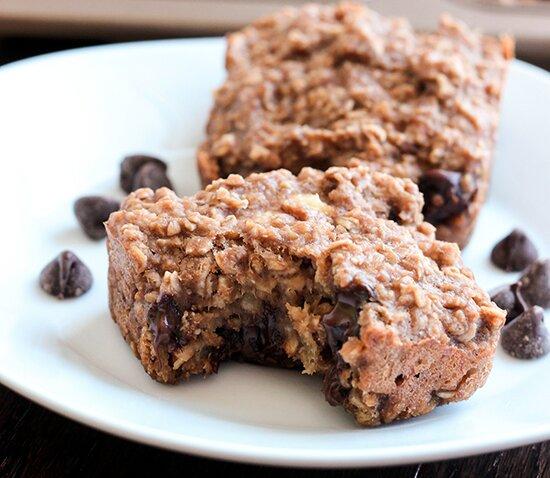 (Note: Some of the links in this post are affiliate links, and we will be compensated when you make a purchase by clicking through our links at no additional cost to you.)
Looking for a delicious and healthy protein bar recipe? You're in luck! We just love this super yummy Peanut Butter Banana Oatmeal Bars recipe. This makes for a great Grab-and-Go snack – perfect for busy days.
Peanut Butter Banana Oatmeal Bars
Prep time: 8 minutes
Cook time: 20 minutes
Yield: 12 servings
Serving size: 1 bar
>>> Discover The Best Kitchen Appliances That Make It Easy to Eat Healthier
Ingredients
2½ cups instant oatmeal or old fashion oats
⅓ cup light or dark brown sugar
1 tsp baking powder
2 tsp cocoa powder
¼ tsp salt
1 tsp vanilla
½ cup Silk® unsweetened vanilla almond milk
1 egg
3 medium very ripe bananas, mashed
¼ cup natural peanut butter
⅓ cup dark chocolate chips
Instructions
Preheat oven to 350 degrees. Prepare an 8×8" pan or cookie bar pan with cooking spray and set aside.
In a medium size bowl, mix together oats, brown sugar, baking powder, cocoa powder and salt.
Next, add in vanilla extract, unsweetened almond milk and the egg. Stir in mashed bananas and peanut butter. Mix well.
Finally, fold in dark chocolate chips and mix gently.
Transfer mixture into baking pan.
Bake for 15-20 minutes. Remove from oven and allow bars to cool before serving.
Nutrition Information
Per Serving: (1 bar)
Calories: 183
Calories from fat: 53
Fat: 5g
Saturated Fat: 1g
Cholesterol: 16mg
Sodium: 85mg
Carbohydrates: 26g
Fiber: 3g
Sugars: 12g
Protein: 5g
Calcium: 1%
Iron: 5%
>>> Discover The Best Kitchen Appliances That Make It Easy to Eat Healthier