11 Best Kitchen Appliances That Make It Easy to Eat Healthier in 2022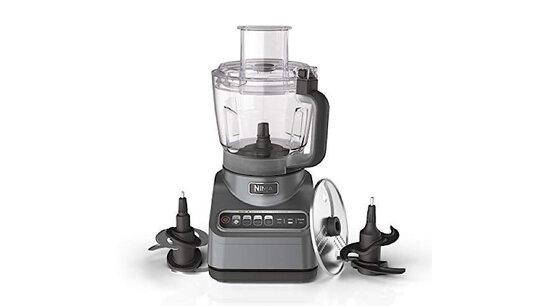 (Note: Some of the links in this post are affiliate links, and we will be compensated when you make a purchase by clicking through our links at no additional cost to you.)
Are you looking to upgrade your kitchen? Having the right equipment for your cooking and baking needs is important when you're trying to eat healthy. So, if you're serious about your nutrition and eating healthy, whether that's getting your daily dose of fruits and veggies or cooking at home instead of always opting for DoorDash, it's worth investing in some of these 11 Best Kitchen Appliances That Make It Easy to Eat Healthier in 2022.
1) Food Processor:
Slice, dice chop and puree anything with the Ninja Professional BN601 9 cup food processor! It can handle just about anything you will put in it and holds enough for a normal family cook. If you entertain often and need to cook for larger parties, you may want to upgrade to the Cuisinart Elemental 13-cup food processor.

-8%
12 new from $105.00

14 used from $67.14

Free shipping
Last update was on: September 22, 2023 7:20 am
MOST POWERFUL KITCHEN FOOD PROCESSOR: The 1000-peak-watt motor can process the toughest ingredients with ease. (under 11-cups, based on rated wattage and listed bowl capacity).
PRROFESSIONAL PERFORMANCE: Dedicated blades and discs deliver restaurant-worthy results. Precisely chop, consistently slice, and evenly mix all in one appliance.
4 VERSATILE FUNCTIONS: 4 Auto-iQ intelligent preset programs make food prep easier with 3 speeds – low, high, and pulse. Chop veggies, shred cheese, and make smooth sauces and quick pizza dough or cookie dough from scratch—all at the touch of a button.
2) Blender:
If you love smoothies as much as we do (which is a lot) you'll need a good blender! The Vitamix E310 Explorian Blender can whip up the smoothest smoothie in seconds. It's an investment, but you won't find a better-performing, more durable pick — there's nothing this blender can't do. If you are looking for a less expensive alternative, the Ninja Professional Countertop blender with to-go cups is a great option.

9 new from $299.99

Free shipping
Last update was on: September 22, 2023 7:20 am
Variable Speed Control: Ten variable speeds allow you to refine every texture with culinary precision, from the smoothest purées to the heartiest soups
Pulse Feature: Layer coarse chops over smooth purées for heartier recipes, such as chunky salsas or thick vegetable soups.
The 48-ounce container is ideal for blending medium batches for small family meals. Cutting blades measuring 3-inch diameter to ensure a consistent blend every time. Electrical Ratings-120 V
3) Mixer:
If you enjoy baking, you need a quality mixer. You can use it for breads, batters and even more! We love the KitchenAid Artisan 5-QT. It works quietly but can tackle just about anything and it comes in a variety of beautiful color options.

2 new from $449.95

1 used from $299.87

Free shipping
Last update was on: September 22, 2023 7:20 am
Choose from all the color options to find the one that best matches your style and personality. Important safeguard: Remove Flat Beater, Wire Whip or Dough Hook from Stand Mixer before washing.. Cord length : 36 Inches
Material Type: Metal Stainless-Steel
Choose from all the color options to find the one that best matches your style and personality.
The power hub turns your stand mixer into a culinary center with more than 15 optional attachments available.
4) Slow Cooker:
Busy moms LOVE slow cooker meals. Throwing ingredients into a slow cooker in the morning means a hassle-free evening and a fully prepared meal when you get home that night. We recommend the Hamilton Beach Simplicity 6-Quart Slow Cooker. It is easy to use and will get the job done. When it's finished cooking, it will switch into a warming mode so you can serve your meal at any time.

1 new from $69.99

16 used from $46.72

Free shipping
Last update was on: September 22, 2023 7:20 am
Not your mom's slow cooker: Smart technology allows you to cook a recipe to either a desired cooking time or specific temperature, before automatically switching to warm when it's done
Patented temperature probe: Place the temperature probe into large cuts of meat to cook to a precise temperature the control panel will display the food's exact temperature as it cooks
Clip-tight gasket lid: The lid clips securely in place, perfect for taking the slow cooker to a party, potluck or tailgate the tight seal helps prevent messy spills along the way
5) Toaster Oven:
Reheat, toast, bake and more in the Breville Mini Smart Countertop Toaster Oven! This toaster oven is compact enough not to take up too much counter space but still offers a great cooking experience.

-11%
9 new from $159.85

10 used from $111.77

Free shipping
Last update was on: September 22, 2023 7:20 am
The Breville Mini Smart Oven with Element iQ System is for the cook who desires a countertop oven that bakes the perfect pizza, delicious cookies and toasts evenly; Don't let Mini fool you as this space saving oven offers 8 cooking functions
ELEMENT iQ SYSTEM: Using 4 independent quartz elements, smart algorithms steer power to where and when it's needed to create the ideal cooking environment for perfect results every time; Fast 1800 Watt preheat gets your meals on the table more quickly
6) Rice Maker:
If you only cook rice occasionally, we recommend the Hamilton Beach Digital Programmable Rice Cooker/Steamer. It does everything you need to make a great side dish. If you are into more interesting types of rice and enjoy styles like sticky rice or rice porridge, you may want to consider the more expensive option of Zojirushi Micom Rice Cooker.

-27%
11 new from $169.57

4 used from $118.70

Free shipping
Last update was on: September 22, 2023 7:20 am
Micro computerized fuzzy logic technology. Capacity Up to 5.5 cups / 1.0 liter,Dimensions (W x D x H) 10-1/8 x 14 x 8-1/2 inches. The electrical rating is 120 volts / 610 watts
Automatic keep warm, extended keep warm and reheating cycle
Easy to clean clear coated stainless steel exterior, 2 delay time settings
Interchangeable melody and beep signal
Built in retractable power cord
Doubles as a steamer with its versatile Steam menu setting
7) Juicer:
A juicer is perfect for a healthy lifestyle because you can consume fruits and vegetables in their freshest form and take in all the nutrients, vitamins, and fiber. You can get creative with juicing by mixing together all your favorite fruits and vegetables into one drink! It's so convenient to have one of these in your kitchen for healthy, nutritious meals!

-11%
1 new from $396.69

12 used from $208.55

Free shipping
Last update was on: September 22, 2023 7:20 am
The Breville Juice Fountain Elite lets you embrace the power of professionals; A 1000 watt motor spins up to 13,000 RPM's to give you up to 30% more juice than traditional juicers; Over 40,000 filtering pores ensure smooth and delicious results every time
UNIQUE EXTRACTION SYSTEM: The Breville juicers titanium reinforced disc and Italian-made micro mesh filter basket are made out of stainless steel and together are designed for optimum juice and nutrient extraction
8) Digital Kitchen Scale:
What does an ounce of berries or cheese look like? I don't know either! Help yourself out by making recipes easier with foods that can't be measured in a cup. The Escali Primo Lightweight Scale will make eating in portions much easier!

-6%
1 new from $25.26

Free shipping
Last update was on: September 22, 2023 7:20 am
The Escali Primo Digital Food Scale is multifunctional and feature an easy to use two-button operation; Sealed control panel and rounded design make this digital kitchen scale easy to keep clean and very durable
Simple two-button operation ensure the cooking scale is easy to operate and ensures quick and efficient use; Display and controls are sealed under a protective shield to guard against accidental spills
9) Steamer:
This useful appliance will save you both time and energy when it comes to cooking. You can serve healthy and delicious dinners at home now. This Hamilton Beach Digital Food Steamer can cook a variety of foods from vegetables, grains, or seafood. This powerful steam quickly heats your food, and the device is easy to monitor and use.

1 new from $49.99

15 used from $25.74

Free shipping
Last update was on: September 22, 2023 7:20 am
FOOD STEAMER AND RICE COOKER: Easily cook a whole meal with one appliance with 5.5 quarts of cooking capacity. Includes 2 steaming bowls plus rice basket for rice or small foods.
VERSATILE STEAMING: Versatile, stackable 2-tier steaming to cook multiple foods at once for quick and easy meal solutions. Use 1 tier for small quantities and 2 tiers for a whole meal. The center divider can also be removed to fit larger quantities of foods.
10) Avocado Slicer:
If you're an avocado lover, this is the perfect gadget for you! The OXO Good Grips 3-in-1 Avocado Slicer will make your avocado slicing so much easier for days when you're in a hurry! Slice, scoop, and remove is this gadgets specialty, and we promise you will love it!

9 new from $11.69

6 used from $10.14

Free shipping
Last update was on: September 22, 2023 7:20 am
All in one tool splits, pits and slices avocados
Stainless steel pitter removes pit with one quick twist
Slicer lifts fruit from skin in seven perfect pieces
Soft, comfortable non slip grip
Top rack dishwasher safe
11) Salad Spinner:
This OXO Good Grips Large Salad Spinner is great for not only spinning salads but even washing fruits. And even in the water mess, the non-slip ring on the bottom is sure to stay tight on the table and keeps from a mess!

9 new from $29.95

5 used from $26.99

Free shipping
Last update was on: September 22, 2023 7:20 am
Easy, one handed operation with patented pump mechanism and brake button
Soft, non slip knob locks down for storage, and a non slip ring and wide base keep bowl steady on countertop
Elegant, clear bowl is perfect for serving, and basket can be used separately as a colander
Clear, flat lid allows for convenient stacking when not in use, disassembles for easy cleaning, and parts are top rack dishwasher safe and BPA Free
What are your favorite kitchen gadgets or appliances? Share with us in the comments below!