Healthy and Delicious Mini Banana Pancakes Recipe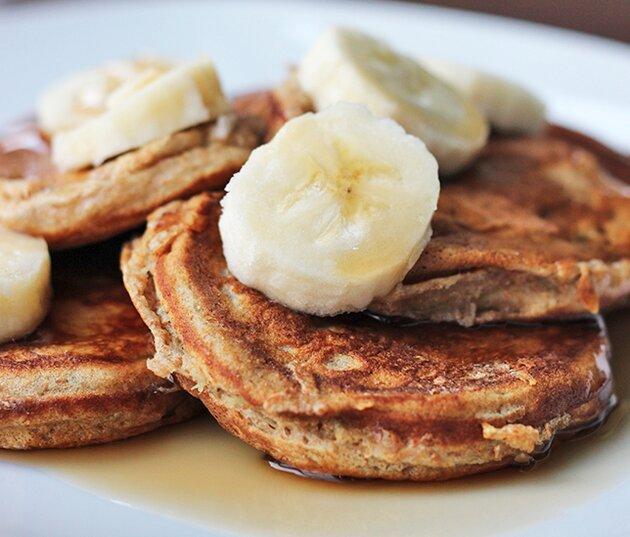 (Note: Some of the links in this post are affiliate links, and we will be compensated when you make a purchase by clicking through our links at no additional cost to you.)
When it comes to breakfast, everyone always wants pancakes! Here is a healthy and delicious banana pancakes recipe. Hope you enjoy it!
Healthy and Delicious Mini Banana Pancakes
Prep time: 10 minutes
Cook time: 10 minutes
Yield: 5 servings, 15 mini pancakes
Serving size: 3 mini pancakes
>>> Discover The Best Kitchen Appliances That Make It Easy to Eat Healthier
Ingredients
1 cup whole wheat flour
2 bananas (very ripe)
1 cup skim milk
2 Tbsp brown sugar
2 tsp baking powder
2 egg whites
1 egg
Optional*:
½ tsp banana extract
½ tsp salt
*optional ingredients are not included in the nutritional calculations.
Instructions
In a medium size bowl, mix whole wheat flour, 2 tsp baking powder, and ½ tsp salt. Use a wire whisk to mix ingredients together.
In a separate medium size bowl, mash bananas using a fork.
Add brown sugar, egg, egg whites, skim milk and optional banana extract to bananas. Mix wet ingredients together using a spoon or spatula.
Add dry ingredients to wet ingredients and mix using a spoon or spatula. Batter will be thick.
Using a well heated pan, spray the pan with non-stick cooking spray and add small spoonfuls of batter to make each mini pancake, making sure to flip pancakes
to cook both sides evenly.
Serve pancakes with sugar-free maple syrup and fresh banana slices.
Nutrition Information
Per Serving: (3 mini pancakes)
Calories: 176
Fat: 1.7g
Carbohydrates: 36.1g
Fiber: 4g
Protein: 8g
Sugars: 13.3g
>>> Discover The Best Kitchen Appliances That Make It Easy to Eat Healthier