Playlist: 14 Running Songs To Help You Stay Motivated On The Run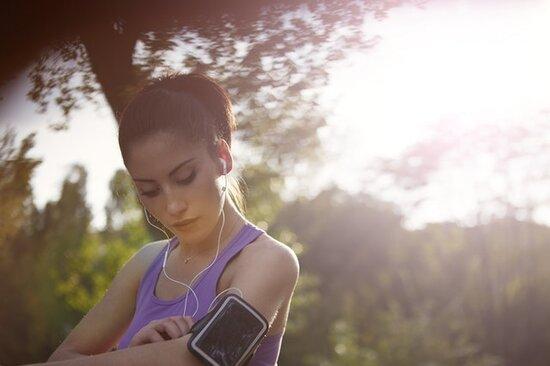 (Note: Some of the links in this post are affiliate links, and we will be compensated when you make a purchase by clicking through our links at no additional cost to you.)
What are the Best Running Songs To Help You Stay Motivated On The Run?
Whether you run late at night, early in the morning, or on your lunch hour, getting motivated is not the easiest thing to do. What's worse? Staying motivated. If you get halfway through your run and decided to turn around prematurely, you could use a pump up! This playlist is specifically designed to start off with fun and upbeat music to get you started, and then progresses into more intense and motivating songs to keep you going!
>>> Discover the Top Workout Headphones
Start your run with a fun and refreshing song! This tune is super positive so you can start off feeling good about your workout.

Another fun and fast paced song, this will keep you going on a positive note.

Whether you grew up listening to ABBA, heard A-Teens remakes or are an avid fan of the MAMA MIA Musical, this song will put a smile on your face as you run to the beat.

Stay positive! This is a happy song with a quick beat to keep your feet moving, even if you're facing a steep hill!

This song is a little ridiculous but you can't argue that it isn't fun. It's got a great beat and bright sounds that won't let you slow down!

Keep your run strong while Ke$ha convinces you to live in the moment, though keeping up a healthy lifestyle will prevent dying young, sorry Ke$ha.

This song has a great rhythm to run to and can keep you motivated as you start to tire.


Even the Glee version of this is BA. This song will pump you up and help you to get on your game face.

Be your own Dark Horse and defy everyone who thought you couldn't do it, whether it's reaching a weight goal or running a marathon!

If this is the point in your workout where you really feel the burn, then it's time for B. She will motivate you and remind you just how awesome it is to be a woman.

Love him or hate him, you can't deny this song is totally a pump-up.

Don't back down from the challenge! This song has a strong beat that will keep your legs pumping.

Another song that has a strong feel to it, this song will remind you that the, 'old you' is dead and gone! You can do it!

You're at the end and have to be feeling pretty good by now. Slow it down and cool off! Try stretching it out while you revel in the greatness of the run.

>>> Discover the Top Workout Headphones