Creamy Chicken in Tuscan-style Sauce with Spinach and Mushrooms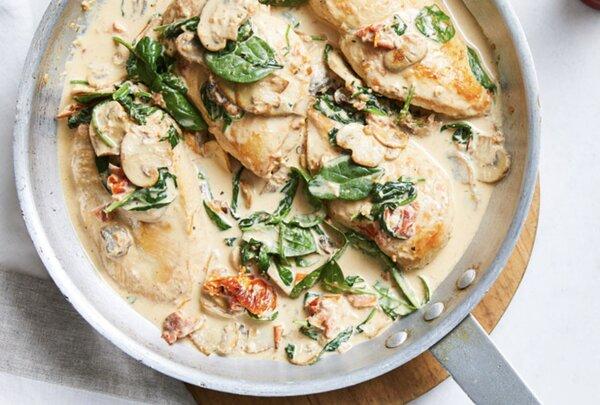 (Note: Some of the links in this post are affiliate links, and we will be compensated when you make a purchase by clicking through our links at no additional cost to you.)
Looking for a delicious and easy-to-make meal that will transport your taste buds straight to the rolling hills of Tuscany? Look no further than this Creamy Tuscan Chicken! Tender chicken breasts are pan-seared and then simmered in a luscious, creamy sauce made with evaporated milk, Dijon mustard, and tangy semi-dried tomatoes. And let's not forget the earthy mushrooms and nutrient-packed spinach that add both flavor and nutrition to this mouthwatering dish. Perfectly complemented by a side of boiled baby potatoes, this Creamy Tuscan Chicken is sure to be a crowd-pleaser and will leave you feeling satisfied and happy. So come with us on a culinary journey to the heart of Italy with every bite of this delightful dish!
Creamy Chicken in Tuscan-style Sauce with Spinach and Mushrooms
Prep time: 10 minutes
Cook time: 17 minutes
Serves: 4
>>> Read more: Discover the power of nutritious and delicious eating with the Mayo Clinic Diet's expertly crafted meal plan. Click here.
Ingredients
1 tablespoon of olive oil
4 small skinless, boneless chicken breast fillets (about 5 oz each)
2 garlic cloves, crushed
2.1 oz of drained and roughly chopped semi-dried tomatoes
7 oz of thinly sliced mushrooms
1 can (12 fl oz) of creamy evaporated milk
2 teaspoons of Dijon mustard
3.5 oz of baby spinach leaves
1.3 lb of baby chat potatoes, boiled or steamed, to serve
Instructions
Heat 2 teaspoons of oil in a large non-stick frying pan over medium-high heat. Add chicken and cook for 3-4 minutes on each side, until browned and cooked through. Transfer to a plate and cover loosely with foil.
Heat the remaining oil in the same pan. Add garlic, tomatoes, and mushrooms. Cook for about 3 minutes, or until mushrooms are tender and lightly browned.
Stir in evaporated milk and mustard. Bring to a boil, then reduce heat and let it gently boil for about 5 minutes, stirring often, until thickened.
Add spinach and stir over heat until wilted.
Return the chicken to the pan with any juices from the plate. Turn chicken to coat with the sauce. Cook for an additional 1-2 minutes, until hot.
Serve with boiled baby potatoes.
Nutrition Information (Per Serving)
Calories: 525
Total Fat: 19.9g
Saturated Fat: 7.5g
Trans Fat: 0g
Cholesterol: 112mg
Sodium: 482mg
Total Carbohydrates: 43.9g
Dietary Fiber: 4.8g
Sugars: 12.3g
Protein: 44.3g
Note: The nutrition facts are calculated using generic ingredients and may vary depending on the specific brands used.
>>> Read more: Say goodbye to meal prep and hello to fresh, healthy meals with Fresh N Lean's gourmet delivery service. Click here.
Source: Heartfoundation.org.au