Candy Cane Cake Pops Recipe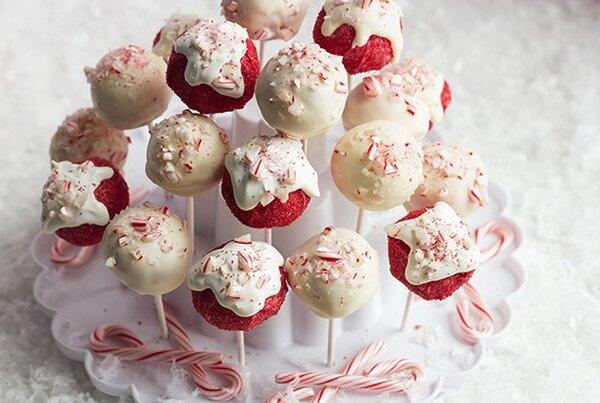 (Note: Some of the links in this post are affiliate links, and we will be compensated when you make a purchase by clicking through our links at no additional cost to you.)
Is there anything more festive and fun to bring to a holiday party than these adorable little cake pops!? These treats are so pretty you may be tempted to not want to eat them, but don't expect your party guests to feel the same way. These little guys have a way of flying off the table at Christmas parties! This is not a recipe for the faint of heart though… You're going to want to flex your crafty muscles on this project! This recipe is for those who enjoys a good challenge and is pretty patient.
If you are only baking with one cake pop pan, this recipe can take about 2-3 hours to complete. The good news is, it can be made ahead of time. You can even split up the recipe by baking the cake balls in the evening, freezing them overnight and decorating in the morning!
If this is your first time making cake pops, it might take a little practice! But, don't fear… You will get the hang of it! If a few break apart when you're transferring them out of the pan or one falls into the melted chocolate, keep calm, this recipe makes a lot for these very reasons.
Presenting them in the Nordicware Pop Stand is an absolute show-stopper! I highly recommend buying one. Although a Styrofoam block will work as a display, it just doesn't do the cake pop's justice (or your time put into them)!
Candy Cane Cake Pops
Prep time: 10 minutes
Cook time: 1.5 hours (w/ only 1 cake pop pan) + 45 minutes chill time + 1 hour decorating
Yield: 48 servings
Serving size: 1 cake pop
>>> Discover The Best Kitchen Appliances That Make It Easy to Eat Healthier
Ingredients
16.5 oz white cake mix, dry mix only
6 oz non-fat plain Greek yogurt
1 cup water
3 egg whites
1 tsp baking powder
1 tsp vanilla
red food coloring
36 oz of Ghirardelli® White Melting Wafers or 42 oz of Wilton® Candy Melts**
red sprinkles (optional)
12 miniature candy canes or peppermint sticks, crushed
Supplies:
pastry bag or large Ziploc® bag
48-50 lollipop sticks
Nordicware® cake pops baking pan
Nordicware® pop stand or styrofoam block
**21.6 oz calculated in nutrition
Instructions
Preheat oven to 350 degrees. Lightly spray the top and bottom of the cake pop pan with baking spray.
In a large bowl, combine the cake mix, yogurt, water, egg whites, baking powder and vanilla in a bowl. Beat until well mixed and no lumps. Optional: Pour half of the batter into a separate bowl and stir in red food coloring. This creates a little surprise when biting into the white chocolate covered pops!
Place the batter into a pastry bag or just use a large Ziploc® bag with a corner cut off.
Pipe the batter into the prepared cake pop pan, filling each to the rim. Cover with top cake pop pan and lock them into place. Bake for 18 minutes, rotating it after 10 minutes. Let it rest for 5 minutes in the pan before opening.
Gently remove the cake pops from the pan to the cooling rack. Repeat with remaining batter. Keep raw batter in refrigerator when not in use.
Using scissors or a sharp knife, cut the middle seam off each ball. Freeze the cake balls for about 45 minutes or overnight (if you plan to decorate the next day). This helps the chocolate stick better to the cake.
For this next step, be sure to have your lollipop sticks and cake balls handy. In a small microwave safe mug or bowl, microwave about 12 chocolate wafers according to package directions. Don't burn the chocolate!
Insert one end of the lollipop stick into the melted chocolate, then halfway into the cake ball. This anchors the stick for when it is dipping time. Do this to all of your cake balls. Allow chocolate to harden, about 5 minutes.
If you haven't already, crush your candy canes. I keep each one in their individual wrapper and use the back of a spoon to crush them. This way, they are easier to sprinkle.
In batches, melt remaining chocolate wafers.
For the white cake pops: Dip the cake pops into the chocolate, gently spin it around in the mug until the excess drips off.
Place on pop stand or styrofoam block. Then sprinkle on crushed candy canes before the chocolate dries.
For the red cake pops: Set aside 40 white chocolate wafers or 3.8 oz for "snow". When you're half way or have as many white pops as you want, add red food coloring to each batch of melted chocolate.
Dip the cake pops into the chocolate, and gently spin it around in the mug until the excess drips off. If your chocolate has thickened slightly due to the food coloring, use a knife to spread on a thin layer like icing.
Cover with red sprinkles and allow chocolate to set, about 15 minutes.
To make the "snow," simply melt the white chocolate wafers (that were set aside) and spoon a small dollop on top. Use a knife and spread down gently to form drips. Sprinkle with crushed candy canes.
Nutrition Information
I weighed the chocolate on each ball to calculate the nutrition info. Although the recipe calls for 36 oz of chocolate, not all of it will be used, but you will still need to buy extra so you have enough to coat the cake balls. I calculated 0.3 oz of chocolate on the white cake balls and 0.6 oz on the red cake balls.
*Optional ingredients are not included in nutrition calculations
Per Serving (1 cake pop):
Calories: 103
Fat: 4g
Carbohydrates: 18g
Fiber: 0g
Protein: 1g
Sugars: 14g
Sodium: 125mg
Vitamin A: 0%
Vitamin C: 0%
Calcium: 3%
Iron: 0%
>>> Discover The Best Kitchen Appliances That Make It Easy to Eat Healthier