Chocolate Raspberry Protein Cupcakes Recipe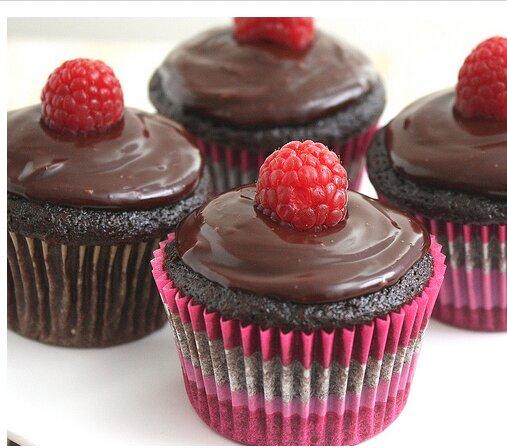 (Note: Some of the links in this post are affiliate links, and we will be compensated when you make a purchase by clicking through our links at no additional cost to you.)
Question: What do you get when you combine chocolate and fresh raspberries into a cupcake? Answer: A decadent and sweet-tooth- satisfying dessert. To up the nutritional value of these delicious cupcakes, we have added chocolate protein powder and egg whites to the recipe so you don't have to feel guilty about asking for seconds. Enjoy!
Chocolate Raspberry Protein Cupcakes Recipe
Serving size: 1 cupcake
>>> Discover The Best Kitchen Appliances That Make It Easy to Eat Healthier
Ingredients
For Cupcakes:
2 cups moist-style chocolate cake mix
2 scoops chocolate protein powder
1½ cups raspberries
3 egg whites
1 Tbsp mini semi-sweet chocolate chips
2 tsp Stevia (or your favorite sweetener)
¼ tsp baking powder
⅛ tsp salt
For Toppings:
1 Jell-O® Double Chocolate, Sugar-Free/Reduced Calorie Pudding Snack
2 Tbsp chocolate frosting
12 additional raspberries
Instructions
Preheat oven to 350 degrees.
To make frosting, place pudding in a small dish. Add chocolate frosting and stir until mixed thoroughly. Refrigerate until cupcakes are ready to be frosted.
Place protein powder, sweetener, chocolate chips, 1 cup water, raspberries, and egg whites into a blender. Blend until pureed.
In a large mixing bowl, combine cake mix, baking powder, and salt. Add pureed protein mixture to the bowl and stir until completely blended.
Line a 12-cup muffin pan with liners or nonstick spray. Evenly distribute cake mixture among the cups.
Bake in the oven for 15 to 20 minutes.
Allow cupcakes to cool completely, and then evenly distribute frosting among the tops of cupcakes. Top each cupcake with 1 of the remaining 12 raspberries. Refrigerate until ready to serve.
Nutrition Information
Calories: 144
Fat: 2g
Fun Fact: Raspberries are high in fiber. Half to one pound of raspberry fruit per day can provide 20- 30 grams of fiber which is adequate for an adult daily nutrition requirement.
>>> Discover The Best Kitchen Appliances That Make It Easy to Eat Healthier