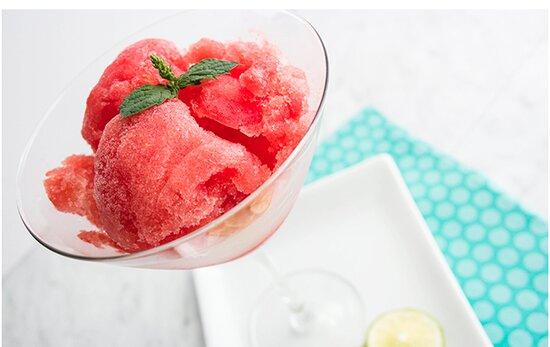 (Note: Some of the links in this post are affiliate links, and we will be compensated when you make a purchase by clicking through our links at no additional cost to you.)
This Watermelon Sorbet is super easy to make and doesn't require an ice cream maker. It's perfect for a summer dessert.
Watermelon Sorbet Recipe
Prep time: 6 hrs 20 minutes (includes freeze time)
Cook time: none
Yield: 3 servings
Serving size: Approximately 1 cup
>>> Discover The Best Kitchen Appliances That Make It Easy to Eat Healthier
Ingredients
3 cups watermelon, de-seeded + cubed
3 Tbsp sugar
¾ cup water
zest from 1 lime
1 Tbsp lime juice
Instructions
Place cubed watermelon in a large freezer Ziploc® bag and lay bag flat in your freezer for 4 hours.
Add water and sugar to a small sauce pan. Bring to a boil. Boil sugar until granules dissolve, while stirring occasionally. Set aside and let completely cool. Keep in fridge until watermelon is frozen.
In a high speed blender or food processor, mix frozen watermelon, lime zest, lime juice and cooled sugar water. Make certain mixture is smooth. You might to need to use a spatula to intermittently scrape down the watermelon between blending.
Pour into the freezer safe container you will be serving from and place in freezer. Freeze for another 2 hours. Scoop and serve.
Nutrition Information
Per Serving: (Approximately 1 cup)
Calories: 91
Calories from fat: 2
Fat: 0g
Saturated Fat: 0g
Cholesterol: 0mg
Sodium: 2mg
Carbohydrates: 24g
Fiber: 1g
Sugar 22g
Protein: 1g
Calcium: 1%
Iron: 2%
>>> Discover The Best Kitchen Appliances That Make It Easy to Eat Healthier