Orange Cantaloupe Creamsicle Smoothie Recipe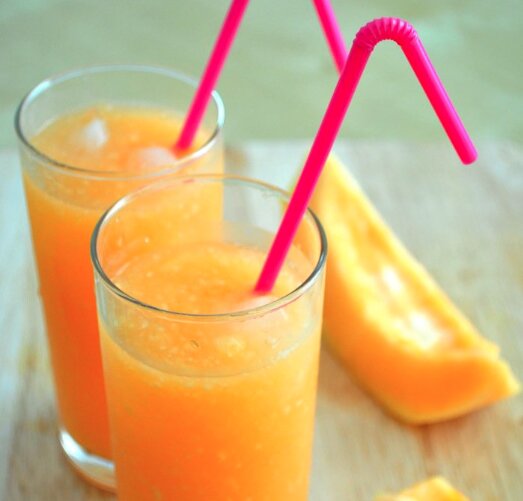 (Note: Some of the links in this post are affiliate links, and we will be compensated when you make a purchase by clicking through our links at no additional cost to you.)
This super easy recipe tastes just like the favorite frosty treat, but it's so much better for you! Cantaloupe, orange and macadamia nuts make this a smoothie packed with antioxidants, beta-carotene and vitamin C. Try this as a sweet treat or a mid-day refresher.
Orange Cantaloupe Creamsicle Smoothie Recipe
Prep time: 5 minutes
Cook time: None
Yield: 2 servings
Serving size: 1 – 8 oz cup
>>> Discover The Best Kitchen Appliances That Make It Easy to Eat Healthier
Ingredients
2 cups cantaloupe, chopped
1 peeled orange, seeds removed
1 cup water
1 cup ice cubes
¼ vanilla bean or 1 tsp vanilla extract
¼ cup macadamia nuts
pinch Pink Himalayan sea salt
Instructions
Add all ingredients to blender and blend until smooth.
Nutrition Information
Per Serving (1 – 8 oz. cup):
Calories: 227
Fat: 11g
Carbohydrates: 32g
Fiber: 5g
Protein: 4g
Sugars: 28g
Sodium: 285mg
>>> Discover The Best Kitchen Appliances That Make It Easy to Eat Healthier