Pineapple Pomegranate Smoothie Recipe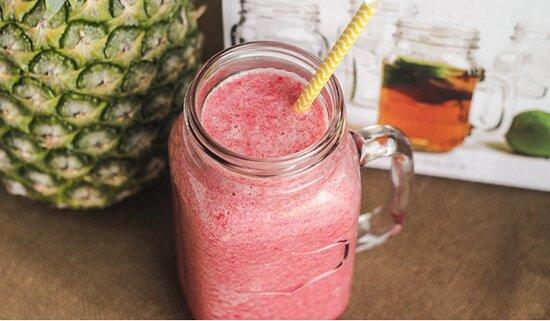 (Note: Some of the links in this post are affiliate links, and we will be compensated when you make a purchase by clicking through our links at no additional cost to you.)
Health benefits of pomegranate seeds are impressive, actually coined the super fruit and for good reason. Pomegranate seeds are loaded with multiple antioxidant properties that can be up to 3 times higher then what is found in green tea. You hear so much these days about antioxidants and how they fight off free radicals that can damage our cells. Pomegranate is high in Vitamin C, vitamin A, folic acid, vitamin E, potassium, iron, calcium and has a lot of fiber.
Pomegranate and pineapple are an amazing combination in a smoothie. This delicious smoothie is perfect for a snack or breakfast!
Pineapple Pomegranate Smoothie
Prep time: 10 minutes
Cook time: None
Yield: 1 serving
Serving size: 1 smoothie
>>> Discover The Best Kitchen Appliances That Make It Easy to Eat Healthier
Ingredients
½ cup pineapple, diced (fresh* or frozen**)
¼ cup pomegranate seeds
½ cup raspberries (fresh* or frozen**)
½ cup water
Instructions
*If using fresh fruit, add ¾ crushed ice to blender.
**If using frozen fruit, you do not need to add ¾ cup crushed ice to blender.
Blend all ingredients together for 30 seconds to 1 minute until mixed well and smooth.
Nutrition Information
Per Serving: 1 smoothie
Calories: 209
Calories from fat: 18
Fat: 3g
Saturated Fat: 0g
Cholesterol: 0mg
Sodium: 15mg
Carbohydrates: 50g
Fiber:11 g
Sugar 36g
Protein: 4g
Calcium: 4mg
Iron: 8mg
>>> Discover The Best Kitchen Appliances That Make It Easy to Eat Healthier