Creamy Lemon Chicken Soup Recipe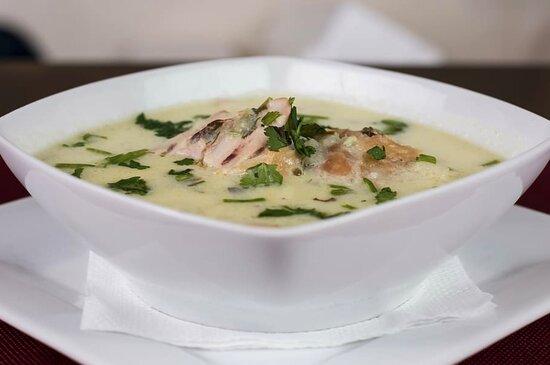 (Note: Some of the links in this post are affiliate links, and we will be compensated when you make a purchase by clicking through our links at no additional cost to you.)
Lemon juice gives this creamy soup its special taste. Add a green salad and crusty rolls, and you have a family-pleasing meal on the table in minutes. Creamy and hearty, like the kind you get in a restaurant. Delicious!!
Creamy Lemon Chicken Soup
Prep time: 10 minutes
Cook time: 20 minutes
Yield: 14 servings
Serving size: 14 cup
>>> Discover The Best Kitchen Appliances That Make It Easy to Eat Healthier
Ingredients
3 eggs
5 cups water
5 cups chicken broth
4 cups cubed, cooked chicken
1 cup uncooked long grain rice
1/3 cup lemon juice
3 carrots, cut into small chunks
1 large onion, chopped
5 tsp chicken bouillon granules
1-1/2 tsp dried oregano
pepper to taste
Instructions
In a Dutch oven or soup kettle, combine the chicken broth, water, bouillon, carrots, and onion.
Bring to a boil.
Stir in chicken and rice.
Reduce heat to medium-low.
Cover and simmer for 15 minutes or until rice is tender.
Whisk together eggs and lemon juice.
Quickly stir into soup.
Season with oregano and pepper.
Nutrition Information
Per Serving: (1 cup)
Calories: 133
Fat: 3g
Cholesterol: 71mg
Sodium: 64mg
Carbohydrates: 16g
Protein: 10g
>>> Discover The Best Kitchen Appliances That Make It Easy to Eat Healthier