13 Top Must Have Fitness Equipment for At-Home Workouts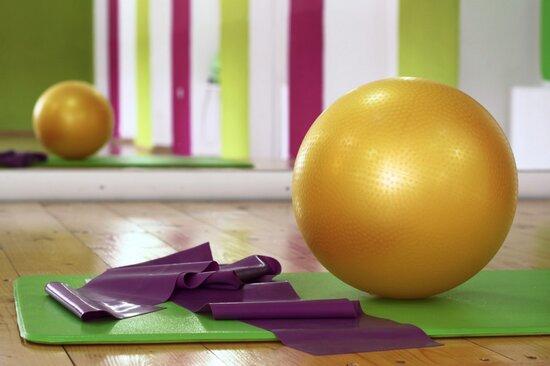 (Note: Some of the links in this post are affiliate links, and we will be compensated when you make a purchase by clicking through our links at no additional cost to you.)
Working out at home is supposed to be super convenient. There's no need for transportation or drive time; you don't need to worry about getting a spot in class; the privacy factor is pretty awesome, too. The one hiccup people always run into, though, is the lack of equipment. A pair of dumbbells is easy enough to find (and inexpensive), but if you're primarily working out at home, you need more than that. Make your workouts more versatile with a few solid pieces of equipment, including some DIY-flavored replacements to save a few bucks.
1) Dumbbells: 
Let's start here. Dumbbells are used for strength training. You can have a couple pairs. Use a lighter pair like 1 to 3 pounds for high rep workouts, like Pilates or barre. Pick up a heavier pair between 10 and 15 pounds for the supersets with six to eight reps. You can even get a third pair even heavier than the last to use for deadlifts and heavy training days. Try to find the lighter ones at a store or online and look for the the big boys are gently used exercise equipment stores to save a little. No dumbbells? Try a couple bottles of water for those high rep workouts.

1 new from $49.26

8 used from $38.51

Free shipping
Last update was on: December 2, 2022 3:15 am
Dumbbell hand weights for exercise and resistance training; ideal for fitness classes, home gym, or workout area
Includes 6 dumbbells in 3 sizes: 3, 5, and 8 pounds (2 each, 32 pounds total), plus an easy-to-assemble storage stand
Cast iron construction with neoprene coating for durability, safety, and a non-slip grip
Printed weight number on each end cap and color coded for quick identification
Hexagonal shape prevents dumbbells from rolling away
2) Kettlebell: 
Pick up one or two of these. You'll be able to work the glutes with swings and the upper body with presses. Try using one with your pushup or swinging it beneath your leg as you lunge. Most sporting goods stores will have these, and you can expect to spend $30 to $60 on a decent one.

1 new from $37.99

Free shipping
Last update was on: December 2, 2022 3:15 am
HIGH-QUALITY CAST IRON CONSTRUCTION: Built to last of solid cast iron with no welds, weak spots, or seams. Great for training indoor and outdoor
DURABLE VINYL COATED FINISH: Encased with vinyl to prevent corrosion, increase durability, reduce noise, protect flooring and enhance appearance
WIDE, SMOOTH HANDLE: Smooth, high-quality slightly textured handle provides a comfortable and secure grip for high reps, makes chalk no longer necessary
3) Resistance Band:
There are really three main types of resistance bands. The most versatile type is the elastic band without handles. Next, is the resistance tubes with handles. This is great for people who prefer having the handles. Finally, you have the mini resistance loop band, which comes in handy for smaller movements often used in Pilates as well as warm ups. Check it out here.
1 new from $33.99

2 used from $27.91

Free shipping
Last update was on: December 2, 2022 3:15 am
❀ [Solid and Durable]--Our heavy resistance bands are made of natural latex material, Non-toxic, no odor, anti-slip and curled, our pull up bands will not break, safe and multifunctional, please rest assured to use.
❀ [Wide Applications]--This professional exercise bands comes with 5 different levels of resistance. Yellow(8-15 lbs), Orange(15-35 lbs), Green(25-65 lbs), Blue(35-85 lbs), Red(50-125 lbs). They are very suitable for beginners, fitness enthusiasts, athletes and other people.
4) Step, Bench or Box:
Having a sturdy, elevated surface for your workouts is key for challenging the leg muscles and upping your pushup game. If you don't want to spend $100 on an actual aerobic step with risers, you can try a wallet-friendly model like the Tone Fitness Stepper here. If you're crafty or you have a man in your life who really wants to build you something, make your own plyometric box. Find the instructions here. Adding a step or box to your workout will intensify everything from steps to jumps to lunges all the way to pushups, planks and creative moves. If you don't have one, you can use the bottom step of your staircase at home, a chair if it's not too high, a curb or a park bench if you're on-the-go.

-10%
2 new from $49.99

1 used from $47.99

Free shipping
Last update was on: December 2, 2022 3:15 am
42.5-INCH LENGTH X 16-INCH WIDTH ANTI-SLIP STEP SURFACE: Slip-resistant, shock-absorbing aerobic step platform with four additional removable 16" x 16" x 2" risers provide a steady, safe, space-efficient and comfortable step workout experience
EASY HEIGHT ADJUSTMENT: Intensify workout difficulty by adjusting platform height from 4" to 6" to 8" using risers to challenge yourself and burn more calories
5) Mini Exercise Ball:
On the resistance team, this ball is excellent for isometric movements as well as assisting you in certain exercises. Imagine setting it between the knees as you bridge up and down to work the inner and outer thighs. Try placing it on your lower back to support it as you focus on the core. As you get stronger, you can actually set it underneath one hand during a pushup. It's a simple piece of equipment to have and the Internet is stock-full of workouts you can do at home with it. The ball costs less than $15. You can use your kid's kickball, a pillow or rolled up towel as a sub.

-35%
1 new from $10.95

1 used from $8.21

Free shipping
Last update was on: December 2, 2022 3:15 am
VERSATILE small yoga ball is intended for core strength, posture, and back rehabilitation. All-around must-have workout balls for exercise and stability support, at the gym, office or home.
SAFE materials were carefully chosen for these exercise balls for working out and are free from harmful chemicals. The small workout ball is anti-burst and offers the perfect grip for barre or pilate.
RECOMMENDED by trainers and physical therapists. The inflatable 9 inch Pilates ball aids in increased balance, core fitness and flexibility, as well as recovery with hip, knee or sciatica issues.
6) Jump Rope:
This classic tool can give you a burst of cardio during any strength circuit and work your calves with a simple plyometric workout. When you pick up a jump rope, you want to step on the center of it and pull the handles up to your chest. The bottom of the handles, where the rope meets them, should be at the nipple line or a couple inches lower than your armpits. Cable jump ropes are great if you're experienced, otherwise try something a little softer like this adjustable model here. There's no real sub for the rope other than pretending like you're using one!
Go to the Next Level
If you're finding these home workouts to be consistent and efficient for you, it's time to invest in some bigger pieces of equipment.
7) Pull Up Bar:
Work the lats, core, arms and chest with a pull up bar. You don't need anything fancy, just a secure place to put it. If you can't do a pull up or chin up yet, you can wrap your resistance band around it and step your foot into it to assist you as you pull.
2 new from $29.60

11 used from $14.73

Free shipping
Last update was on: December 2, 2022 3:15 am
Strengthen entire upper body and abs with pull-ups, sit-ups, push-ups, dips, and leg raises
Portable design makes it easy to squeeze in workouts and stay fit at home
MULTIFUNCTIONAL - 12 comfortable grips and various handles allow you to perform wide, hammer, close-grip exercises
Made in USA
8) Barbell:
You don't need to go Olympic size right off the bat, but check out the at-home version. With a barbell, you can perform cleans, deadlifts, push presses and more. It's a refreshing take from dumbbells. You can front and back squat more efficiently with it. Find a model that offers the weights with it.
2 new from $135.99

1 used from $134.63

Free shipping
Last update was on: December 2, 2022 3:15 am
The 4-weight Deluxe Barbell Set is the perfect starter set, totaling a weight of 60 lbs. (including the bar)
Weights are environmentally friendly. Weights are a solid core of safe, clean recycled material encased in a strong HDPE shell (Includes 2 XS – 2.75lb, 2 S – 5.5lb, 2 M – 8.25lb, 2 L 11lb weights)
The 1" diameter, 54" long threaded 3-piece bar is made of a heavy gauge steel. Bar is powder coated for long life
9) Medicine Ball:
Used for resistance training as well as to improve coordination, balance and power, a medicine ball is the equipment you'll love to hate. They come in different weights and models, some with handles (but you can't throw those). Stick with something simple and have fun with those woodchoppers, wall balls, ball slams and more.

1 new from $44.50

8 used from $20.06

Free shipping
Last update was on: December 2, 2022 3:15 am
6-pound weighted medicine ball for upper, lower, and full body exercises
Constructed with sturdy, firm rubber with weight labeled on both sides of ball; lightly textured surface provides a superior grip
Can bounce off hard surfaces (for slam ball workouts, search Amazon Basics Slam Ball)
Designed for classic medicine ball workouts, including ball toss, weighted twists, squats, sit ups, and more
Ideal for developing core strength, balance, and coordination
10) TRX Straps:
There is so much you can do with a pair of TRX straps! Simple and steady strength training or innovative cardio. You need a solid anchor from which to hand these. Pick up a pair with adjustable straps so you can switch from rows to mountain climbers with ease. They can get pricey, but start with a lower end model first.

1 new from $179.95

Free shipping
Last update was on: December 2, 2022 3:15 am
WHAT'S IN THE BOX: The TRX All-in-One System is the prime suspension trainer for full-body workouts. This system comes with a suspension trainer, a suspension anchor, a door anchor, a getting-started guide and access to the TRX Training Club app.
30-DAY FREE TRIAL TO TRX TRAINING CLUB: Get unlimited access to 500+ on-demand workout videos, with new workouts added weekly, and daily LIVE classes from world class trainers. To get your 30 Days on us, just register your Suspension Trainer.
11) Exercise Ball:
The exercise ball can be used for everything from ab exercises to squats.

-41%
2 new from $13.94

1 used from $26.99

Free shipping
Last update was on: December 2, 2022 3:15 am
ANTI-BURST - Built with sturdy PVC material, this anti-burst pilates ball can handle the most rigorous workouts up to 600 lbs of weight. You'll never need to worry about the balance ball bursting or losing its shape.
ANTI-SLIP - The surface of this pregnancy ball is coated in a non-slip glaze that will ensure you have a proper and safe grip. Use it to get fit, relieve back pain, or to soothe aches during pregnancy as a birthing ball.
12) BOSU Balance Trainer:
The BOSU ball can be used for so many amazing things! Use it to add intensity to lower body workouts or balance training to your full body workouts. You can also flip it over and strengthen your core while working on your upper body. Either way you work it, no workout room is complete without a BOSU Balance Trainer.

3 new from $141.99

1 used from $103.00

Last update was on: December 2, 2022 3:15 am
Combines elements of cardio, strength, and flexibility into unique and highly effective workouts; Forces you to maintain your center of gravity while performing any exercise
26-inch ball increases the difficulty of workouts and builds strength faster by forcing the engagement of more muscles
Improves flexibility, endurance, strength, and ability by performing versatile workouts
Ideal piece of equipment for rehabilitation and physical therapy with the unstable surfacing
Top Tier Training
Match your experience with this top of the line piece to complete your at-home gym. You'll probably need to put it on a wishlist, though, because it's the definition of investments.
13) Rowing Machine:
If you can't get a run in or you really want to avoid the treadmill, try the rowing machine. If you haven't tried it before, run into a local gym and check it out. This isn't something you'll buy on a whim. The rowing machine is very effective in cardio training and conditioning as well as working the core and upper back muscles. You can track your calories burned, distance, watts and change the resistance. Not sure if this is for you? Click here to read more about the rowing machine.

8 new from $1,302.00

Last update was on: December 2, 2022 3:15 am
This item benefits from an Extended 90 Day Return Window
Low impact workout that engages all major muscle groups; work legs, core and arms with a smooth, high calorie-burning motion
Track your progress with real-time reliable data; the Performance Monitor 5 (included) self-calibrates for comparable results; connect wirelessly to heart rate belts and apps (not included)
Designed to fit most users: 14-inch seat height, adjustable footrests and ergonomic handle
>>> Discover the Top Rowing Machines