The Best Sports Bra For Your Bust of 2023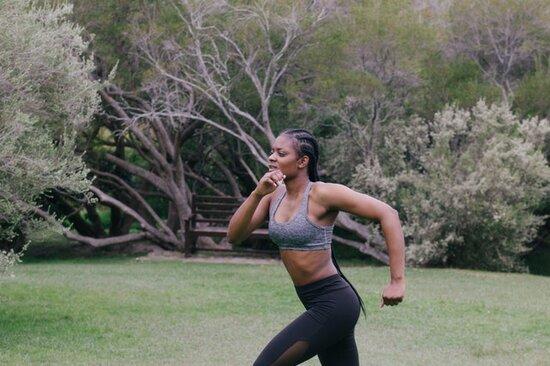 (Note: Some of the links in this post are affiliate links, and we will be compensated when you make a purchase by clicking through our links at no additional cost to you.)
What are the best sports bra for your bust in 2023?
There is no worse feeling than the bounce of unrestrained boobies. If you aren't one of those ladies who love to go bra-less, there may be plenty of times when you fear that if you descend the steps too quickly, you'll get a good whack in the chin from the girls. So how can you avoid this at the gym? Finding the right sports bra for you is not an easy task, but with these suggestions, you may be able to avoid the booby bounce from now on!
Small Sized Breasts
If you fall into the A or B cup size, you're best choice is most likely a compression sports bra. It's also in your best interest to go with racerback straps. Racer back will insure that the bra stays closely fitted to your body to provide the support you need. Having small breasts allows you to change up styles and still have support!
New Balance Power X Sports Bra:
Great for high-impact support, the New Balance Power X Bra wicks moisture to keep you dry. You'll appreciate the padded, adjustable straps that offer a comfy, custom fit.

Last update was on: September 21, 2023 10:51 pm
Upgrade your activewear with the NB Power X Bra. Pairing elevated high impact support with luxuriously soft jersey fabric, this sports bra will help minimize distractions so you can give each cardio session your all. Moisture-wicking NB DRY technology and breathable cups help you stay dry, while adjustable padded straps provide a comfortable, customized fit. This version features a classic back hook-and-eye closure.
Nike Victory Compression Sports Bra:
This Nike Victory Compression sports bra offers medium support and is sure to hold your chest in place regardless of the intensity of your workout. The fabric is breathable and stretches to move with you. It comes in a variety of colors.

Last update was on: September 21, 2023 11:52 pm
COMPRESSION & SUPPORT: The Nike sports bra for women utilizes a snug compression fit, providing medium support for a variety of training activities.
RACERBACK DESIGN: Straps create stabilizing tension, helping to minimize bounce during multidirectional movement. The sports bras' racerback straps allow for a full range of motion.
JERSEY MATERIAL: The Nike sports bra has an outer body and inner lining made of jersey material. The sports bra pulls sweat away from the skin to keep you dry and comfortable.
Average Sized Breasts
While you may have a 'normal' breast size, that doesn't mean finding a good fit is easy. No bras are created equal! For a middle ground cup size, we suggest finding a compression bra with wide straps, or a racerback bra with an encapsulation style, simply meaning it has built in cups.
Nike Women's Dri-FIT Swoosh Zip-Front Medium-Support Padded Sports Bra:
A comfortable fit great for a medium impact workout like cycling, yoga or gym training. This bra will keep everything in place and is comfortable because of it's wide and adjustable straps. This bra also has lots of side coverage to prevent the dreaded bra bulge. The zipper is a savior post-workout too, making it simple to shed your bra.
Champion Women's Sports Bra, Spot Comfort, Maximum Support, High-Impact Sports Bra for Women:
Experience superior support with this high-support bra that offers exceptional cup definition while ensuring your breasts remain securely in place to prevent any uncomfortable movement. The innovative U-back design not only provides comfort but also allows for effortless adjustments and hassle-free wear.

-25%
4 new from $36.00

Free shipping
Last update was on: September 21, 2023 11:52 pm
SUPPORT LEVEL – High-impact sports bra made for running and high-intensity workouts.
THE FEEL – Tight compression fabric for a stay-put fit.
THE SHAPE – Wire-free sports bra with lightly molded cups for shape and support. Cups are non-removable.
THE STRAPS – Adjustable gel-infused bra straps reduce dig-in and feel easy on skin.
THE CLOSURE – U-shaped back with cushioned hook-and-eye clasp adjusts for a custom fit with your toughest workouts in mind.
Large Sized Breasts
For women with DD's and larger, you really know the pain of the bounce. But there are plenty of options for you as well! For larger breasted women, proper and sufficient support is key. That usually means a thick band underneath and possibly an underwire. You'll also want to find thicker straps to keep everything comfortably lifted.
Wacoal Sports Underwire Bra:
This bra ranges in sizes from 32D to 40G, making it an awesome option for you bigger breasted ladies. It has underwire and a thick band for the ultimate support, and wide straps for lift and comfort.
ENELL Women's Full Coverage High Impact Sports Bra:
If you want a sports bra with a front closure and maximum coverage and support then the Enell Sports bra is an excellent option. The Enell Sport's high neckline and corset-like design may feel too intense for some people. But this design also makes the Enell one of the best bras for reducing bounce no matter how crazy your workout gets.

3 new from $80.00

Free shipping
Last update was on: September 21, 2023 11:52 pm
SUPPORT, STABILIZE, SECURE - The ENELL SPORT is scientifically designed to support, stabilize, and secure. We are determined to provide sports bras that well-endowed women can count on when and where it matters most.
FINDING YOUR PERFECT FIT - For the very best fit, please do not refer to your current bra size. Sports bras for large breasts require exact measurements to ensure a bounce-free fit. While wearing your everyday bra, take your actual measurements around the fullest part of your bust and around the rib cage directly under your breasts. Then refer to the ENELL size chart to see which ENELL size is your perfect fit. If in-between sizes, size down.
SYROKAN Front Adjustable Lightly Padded Wireless Racerback High Impact Sports Bra:
This SYROKAN sports bra is a high-quality, budget-friendly pick for fuller busts. Unlike most bras, the design allows you to adjust the straps are easily adjustable so you can make it as secure as your need – they Velcro in the front too, so you can adjust them discreetly without taking off the bra. The sports bra is designed for shock absorption and motion reduction with a full-coverage fit and a wide underband construction.

Last update was on: September 21, 2023 11:52 pm
SUPPORT WITH ADJUSTABLILTY: Molded cups with velcro front-adjustable straps maintain shape and increase support and push up.
NO BOUNCE, NO SHOW THROUGH: Full coverage with wide elastic band and interior front yoke to reduce movement and absorb shock.
KEEY YOU COOL: Moisture-wicking mesh inserts at both sides and back to blow off hot and bring you cool and dry during workout.
STAY IN PLACE: Stay put stylish racerback with concealed hook-and-loop closure keep your girls in place through any movement.
Next time you're headed to the gym, keep your girls in check with a proper fitting sports bra. Having the right amount of support, will allow you to get the most out of your workout without worry or that horrible bouncing-boobs distraction.