Pumpkin Cheesecake Poke Cake Recipe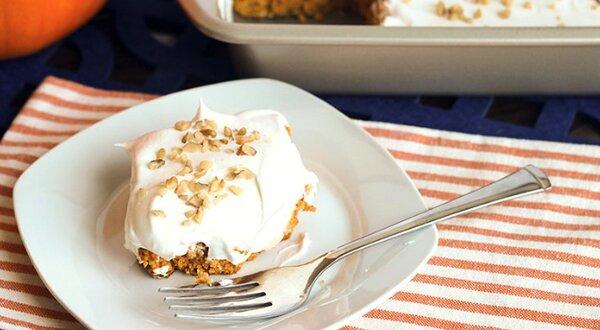 (Note: Some of the links in this post are affiliate links, and we will be compensated when you make a purchase by clicking through our links at no additional cost to you.)
Are you all ready for pumpkin recipes? I am! Bring on the fall pumpkin desserts! And this is THE ultimate fall dessert!
Pumpkin Cheesecake Poke Cake Recipe
Prep time: 10 minutes
Cook time: 30-35 minutes
Yield: 12 servings
Serving size: 1/12th equal size slice
>>> Discover The Best Kitchen Appliances That Make It Easy to Eat Healthier
Ingredients
18.25 oz box golden yellow cake mix, dry cake mix only
15 oz can Libby's® 100% Pure Pumpkin
1 oz Jell-O® Cheesecake Fat Free/Sugar Free Pudding Dessert
2 cups skim milk
8 oz container Cool Whip® Free Whipped Topping
Optional*:
1 tsp pumpkin pie spice
1 Tbsp chopped walnuts
*Optional ingredients are not included in the nutritional calculations.
Instructions
Preheat oven to 350 degrees. Lightly coat a 9×13 baking dish with nonstick cooking spray.
In a large stand up mixing bowl or large bowl with a hand mixer, mix together dry cake mix, pumpkin and ½ cup water. If using pumpkin pie spice, mix in as well.
Mix for 2-3 minutes until batter is lump-free and fluffy.
Transfer batter to baking pan and bake cake for 30-35 minutes until edges are golden brown and fork inserted in center comes out clean.
Allow cake to cool completely.
Using a straw or end of a spoon, generously poke holes throughout cake.
In a medium bowl, mix cheesecake pudding mixture with 2 cups of skim milk.
Using a whisk, whisk pudding for 2 minutes.
Immediately pour pudding evenly over cake.
Top cake with Cool Whip® Free Whipped Topping and (optional) chopped walnuts and/or pumpkin pie spice.
Place cake in refrigerator before serving, and keep leftovers stored in refrigerator.
Nutrition Information
Per Serving (1/12th equal size slice):
Calories: 274
Fat: 4g
Carbohydrates: 53g
Fiber: 2g
Protein: 3g
Sugars: 28g
Sodium: 407mg
Vitamin A: 108%
Vitamin C: 1%
Calcium: 19%
Iron: 7%
>>> Discover The Best Kitchen Appliances That Make It Easy to Eat Healthier