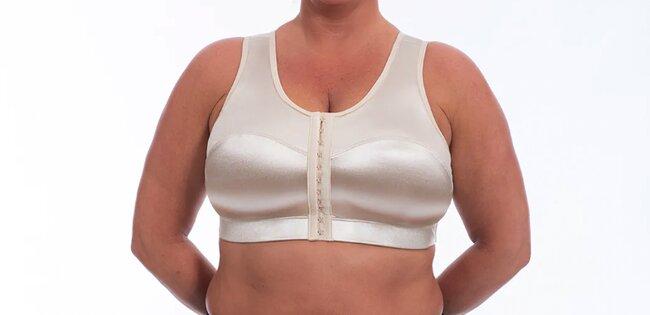 (Note: Some of the links in this post are affiliate links, and we will be compensated when you make a purchase by clicking through our links at no additional cost to you.)
Since the beginning of time, big-breasted women have often complained about the hassles of working out with their girls in tow. And while we may not all know what it's really like working out with big boobs, a study has shown us that it's difficult. It is indeed true: Large breasts can put a damper on your fitness. According to the study, the size of a woman's girly parts directly impacts her affinity for exercise. Many women said that their breasts were putting a damper on their exercise regimens because they A. couldn't find the right sports bra or B. were too embarrassed by the jiggle.
The right sports bra can 100 percent change a woman's workout. Here are the top tips for finding the right sports bra.
>>> Discover the Top Sports Bra For Your Bust
What should big-breasted women look for in a sports bra?
A good fit is the most important aspect for any woman looking for a sports bra, but especially for larger-breasted women. These women have the most to gain from a perfectly fitted bra. She should look for a bra with adjustability, both in the band and in the straps. Adjustability will ensure the right fit for her body and make it easier for her to take on and off. It's equally important that all the breast tissue is fully contained in the cups at the neckline and underarm to ensure the best support possible.
Is shopping small, medium, large sizing a dangerous idea?
There's no real danger, yet there are benefits to choosing a bra with more specific sizing. Smaller-breasted women with a common breast shape may find an alpha-sized bra ideal, provided it gives her the level of support, comfort, fit and style she is looking for. However, women of all sizes might find that a bra built for her particular cup and band size gives her a more personalized fit — resulting in better performance from the bra.
What kind of materials are the best sports bras made of?
Sports bras should be constructed of high-performance fabrics with wicking capability. How that material is used in the construction of the bra is equally important. Look for strategically-placed seams, bonded seams, and plush-backed hooks-and-eyes which work together to prevent chafing and provide the ultimate in comfort.
How do you know if your sports bra is fitting you appropriately?
First of all, it is important to get sized regularly by a trained professional as women's bra size can fluctuate due to age, pregnancy, or weight change. Beyond the initial measurement process, there are 4 fundamentals to consider with fit:
1. The band
On the middle hook, ensure it's snug and lies even. You should still be able to take a deep breath, but it should be more taut than a lingerie bra.
A band that rides up indicates that the band is too loose and/or the straps need adjustment. Chafing can occur if the band is too big.
2. The cups
Ensure the breast tissue is fully contained and centered in each cup, but the bra doesn't pucker or wrinkle.
Any tissue that spills out the top or sides indicates the cup size is too small.
The bra's fabric should be smooth. Any wrinkles or puckers may mean the straps need adjustment or that the cup size is too big.
3. Underwire
If the style includes an underwire, it should sit on the rib cage below the breast tissue with the center panel comfortably flat against the breastbone.
Any gaping in the center indicates the need to go up a cup size.
4. Straps
Straps should not slide or dig into shoulders.
If the support feels like its coming from the straps, you may need a smaller band size.
Adjustable straps offer a more custom fit.
>>> Discover the Top Sports Bra For Your Bust