10 Best Colorful Running Shoes For Women in 2022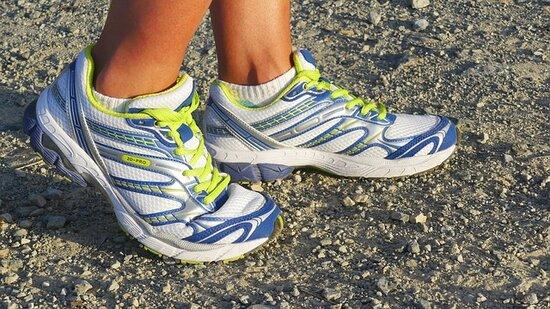 (Note: Some of the links in this post are affiliate links, and we will be compensated when you make a purchase by clicking through our links at no additional cost to you.)
What are the best colorful running shoes in 2022?
Running shoes are one of those things that I find myself buying quite often. I essentially live in my running shoes, which causes them to wear quickly. Going through so many pairs of running shoes has caused me to become quite a connoisseur. I thought I would share some of my acquired running shoes knowledge with you all so that your next pair of running shoes will be a joy to wear!
Asics GEL-Nimbus 24 Women's Running Shoes:
Asics are widely known for the support they offer. These shoes are supportive and stylish. We love this clear blue color!

Last update was on: September 15, 2023 9:54 pm
The GEL-NIMBUS® 24 shoe offers advanced impact protection for your distance training. Creating a softer landing in every step, this shoe is also approx. 10g lighter than the previous version. The upper's soft engineered mesh and flexible midfoot panel make these shoes more comfortable during long runs. By moving seamlessly with your foot, they help your stride feel smoother in every step. FF BLAST PLUS™ cushioning keeps the shoe lightweight while providing a softer feeling underfoot. This material also helps increase the shoe's rebound properties at the toe-off stage.
PROS:
Flytefoam midsole is plush underfoot

A good all-round running shoes  
CONS:
Some runners feel that it lacks the 'wow factor' of other running shoes on the market
---
Nike Women's Air Zoom Pegasus 38 Running Shoes:
If light-weight shoes are important to you during your run, these Nike Women's Air Zoom Pegasus 38 Running Shoes will be right up your alley. This is also a great all-rounder and is a good choice for runners who want one pair of running shoes that will do everything.

Last update was on: September 15, 2023 9:54 pm
Get ready to take flight in the workhorse with wings. Back with extra bounce that's perfect for hitting the pavement. Whether you're racking up everyday miles or on your long run, feel the spring in your step with the same cushioned support as its predecessor. Breathable mesh in the upper combines the comfort and durability you want with a wider fit at the toes.
PROS:
A great all-rounder
Durable
Available in several different colorways
CONS:
Not the most responsive shoe
---
HOKA ONE ONE Clifton 8 Road Women's Running Shoes:
With extra cushioning, this shoe takes up to 80% of the shock in the heel while running.
PROS:
Comfy, comfy, comfy
More versatile than the previous version
High level of cushioning
More snappy forefoot
Available in several different colorways
CONS:
Slight increase in weight over the previous version
Runs warm
Very thick tongue
Doesn't love to go fast
---
Merrell Antora 2 Women's Running Shoes:
Stay protected and steady on the trail when you wear the Merrell® Antora 2 trail running shoe! It is the best choice for hard, rocky trails.
PROS:
Protective rock plate in midsole
Lightweight EVA foam
Medial post for stability
CONS:
Some runners complain that it lacks arch support
---
Brooks Hyperion Tempo Women's Running Shoes:
The Brooks Hyperion Tempo running shoes are designed for speed racing and marathon training.

-31%
1 new from $102.99

Last update was on: September 22, 2023 7:20 am
THIS WOMEN'S SHOE IS FOR: For runners looking to get the most out of their workouts, the Hyperion Tempo is a light and responsive trainer that reduces deviation, allowing you to run and recover faster
LIGHT, RESPONSIVE CUSHIONING: We created the all-new DNA FLASH midsole by infusing our adaptive DNA material with nitrogen, providing an incredibly lightweight yet springy experience.
PERFORMANCE FIT: The woven upper moves with your foot and provides both stretch and breathability for maximum comfort.
PROS:
Extremely Light Weight
Moderate cushioning and flexibility
Responsive nitrogen-infused foam midsole
Very good traction
Effective foot lockdown
Breathable
CONS:
Less forefoot cushioning
Price is on the expensive side compared to daily trainers
Some runners complain the toebox is a little narrow
---
Altra Paradigm 6 Women's Running Shoes:
If you are looking for a great daily training running shoe for a variety of surfaces, these Altra Paradigm 6 will by a great buy for you. It is also perfect for someone who wants a pair of comfortable shoes for walking or running errands around town with plenty of cushion and support.

Last update was on: September 15, 2023 9:54 pm
Collaboration is key. That's why we worked closely with Altra Elite Athlete and two-time Olympian Kara Goucher on every detail of the Paradigm 6. The result features our luxurious and responsive Altra EGO™ MAX midsole foam, a slimmer aesthetic that will have you questioning whether it's really a support shoe, and support features that will remind you that it is. The new Paradigm 6 is "in a category of its own."
PROS:
Great cushioning
Roomy toebox
Excellent traction
Guide Rail system helps craft an even gait cycle
---
New Balance Fresh Foam 1080 V10 Women's Running Shoes:
This is an excellent running shoe with a responsive, lightweight, and durable configuration for daily training and running.

Last update was on: September 22, 2023 7:20 am
Cushioned Running Shoes for Every Runner: Part of the Fresh Foam X collection, these shoes use our latest advancements in data to design to deliver precise plushness exactly where you need it
Support and Durability: This shoe features a Hypoknit upper designed to provide strategic areas of stretch and support, in addition to a blown rubber outsole for impressive durability
Perfect Fit: These comfortable running shoes include a bootie upper construction and an Ultra Heel design, both of which hug the back of the foot for a snug, supportive fit
PROS:
Lightweight for such a thick midsole
Feels fast
A sock-like knit upper keeps the foot locked down without feeling restricted
CONS:
Some runners complain the toebox a little constrictive and can take a few weeks to stretch out to accommodate a wider forefoot
---
Saucony Kinvara 12 Women's Running Shoes:
This is one of the most versatile running shoes out there and a great choice of a shoe that performs on slow runs, tempo sessions, fartleks, long-distance efforts and everything in between!
PROS:
Versatile for speed workouts and daily runs
Insanely flexible
Removable insole
Wide feet friendly
Available in several beautiful different colorways
CONS:
Exposed outsole foam can show early wear
Not for cold days
---
Brooks Ghost 14 Women's Running Shoes:
This is bill as the shoe for all runners! It's a dependable workhorse that has the perfect balance of long-distance cushioning and ride stability.

1 new from $200.00

Last update was on: September 22, 2023 7:20 am
THIS WOMEN'S SHOE IS FOR: Runners looking for a smooth ride that won't distract from the fun of the run. The Ghost 14 offers a simplified midsole construction which creates more seamless transitions. This Brooks Ghost 14 is a certified PDAC A5500 Diabetic shoe and has been granted the APMA Seal of Acceptance. We recommend ordering Brooks running shoes 1/2 to one size larger than your dress shoe.
SUPPORT AND CUSHION: The Ghost 14 offers neutral support while providing high energizing cushioning. Ideal for road running, cross training, the gym or wherever you might want to take them! Predecessor: Ghost 13
PROS:
Comfortable
True to size
Lots of padding
Smooth ride
Very Stable
Breathable
CONS:
Outsole wears down fast initially
Heavier than the previous version
---
Brooks Glycerin 19 Women's Running Shoes:
The Brooks Glycerin 19 is one of Brooks' most popular running shoes that's built on comfort and stability. It is built to last!
PROS:
Soft Cushion, Smooth Transition
Durable
Plushy
Wide-feet friendly
Tongue stays put
Perfect midfoot lock
CONS:
Not much energy return
May have tread issues in wet conditions
---
What are your favorite colorful running shoes?
Should you get fitted for running shoes?
This is a question we get asked a lot. Many salespeople at your local running shoe or sporting goods store will tell you that in order for you to prevent injuries you must have the right footwear. Their claim: Most people, especially new runners just grab any old running shoe off the rack instead of choosing the right shoe for their foot type and their running style. But how do you know what shoe is right for you? Their answer: Get a gait analysis.
An official gait analysis analyzes your running form and helps you figure out how to improve it. A proper gait analysis performed by a reputable certified coach, researcher or a physical therapist specializes in running injuries looks at your entire body (head movement, shoulders, trunk movement, hips, knees, etc) while you run and not just your lower body or just your feet. And a super deluxe gait analysis involves a biomechanics laboratory, infrared cameras, 3D motion analysis, muscle function measurements, and force and pressure measurements. But a "gait analysis" performed in a shoe store is usually just a salesperson studying your feet while you run on a treadmill.
The sales pitch of running shoe stores goes something like this: Don't want to get injured? Then you must get the right shoe. Understanding your foot arch and how much you pronate is essential if you want to pick the right running shoe. Pronation refers to the degree to which your foot rolls inward as you land: You either land a little on the outside (underpronate), a little on the inside (overpronate), or straight down the middle (neutral pronate). But is it legit? Are there research and evidence to support this? Despite popular belief, there's just no real evidence that pronation-controlled shoes affect injury risk. A flawed running form or gait can be corrected with strength training, mobility drills, and rigorous form, but not by a shoe. In fact, from the many studies the biggest predictor of injury is actually uncomfortable shoes. The most convincing proof here is a military study from 2001 which showed that the number of injuries decreased significantly when people chose a shoe based on comfort.
So takeaway is you don't need a gait analysis to buy the right running shoe. Comfort is the most important factor in choosing a pair of running shoes. They should feel balanced. If it's over- or under-supported, your lower leg muscles will have to work a lot harder and throw off your whole kinetic chain (knees, hips, etc), which will make it feel less comfortable and increase your risk for injuries.
If you do want to improve your running form, you can hire a reputable certified running coach for a one-off session or go to a physical therapist who specializes in running injuries.