PB + Banana Protein Wrap Recipe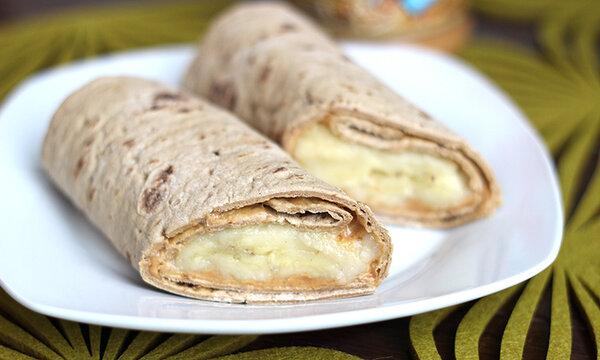 (Note: Some of the links in this post are affiliate links, and we will be compensated when you make a purchase by clicking through our links at no additional cost to you.)
Upgrade your PB and J cravings with a banana peanut butter wrap! Peanut butter is a healthy fat, but you have to be careful of eating excessive amounts. We've all been caught with our spoon in the peanut butter jar grabbing too many scoops! We've traded out the jelly with fresh sliced banana. You will be proud to pack this wrap, and it's great for some post-workout fuel!
PB + Banana Protein Wrap
Prep time: < 5 minutes
Yield: 1 serving
Serving size: 1 wrap
>>> Discover The Best Kitchen Appliances That Make It Easy to Eat Healthier
Ingredients
1 whole banana
6″ La Tortilla Factory® High Fiber, Low Carb Whole Wheat Tortilla
1½ Tbsp reduced-fat creamy peanut butter
Instructions
Spread peanut butter thinly onto wrap, leaving about ½ inch around the edges uncovered.
Slice banana into thin slices and place slices in the center of wrap.
Tightly roll wrap and enjoy!
Nutrition Information
Per Serving: (1 wrap)
Calories: 305
Fat: 11g
Carbohydrates: 46g
Fiber: 12g
Protein: 13g
Sugars: 16g
Sodium: 301mg
Vitamin A: 2 %
Vitamin C: 17 %
Calcium: 5 %
Iron: 8 %
>>> Discover The Best Kitchen Appliances That Make It Easy to Eat Healthier