Healthy Delicious Chicken Salad Recipe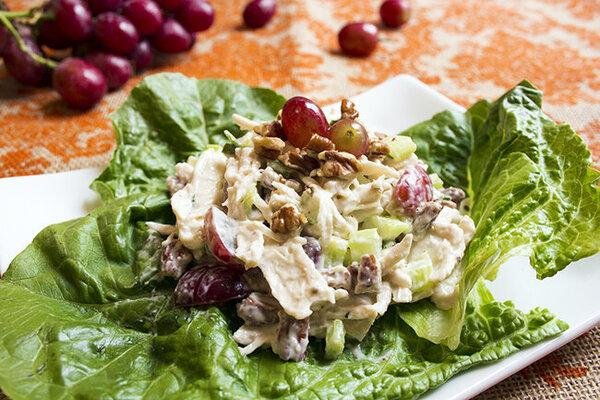 (Note: Some of the links in this post are affiliate links, and we will be compensated when you make a purchase by clicking through our links at no additional cost to you.)
I love a good chicken salad recipe, but sometimes finding a great-tasting and healthy chicken salad recipe is a challenge! Most of the recipes that I have come across taste really good, but they are loaded with fat and calories. And, I hardly ever order chicken salad off of a restaurant menu since they are almost always packed with lots of mayo and a pretty scary amount of hidden calories.
This recipe for chicken salad is definitely on the lighter side, but it doesn't skimp on flavor. It is packed with seedless grapes, crunchy pecans and just the right amount of dressing. Try it on a low carb, high fiber wrap, or just on its own for a delicious lunch! Add in additional fruit or chopped onions to make it your own.
Healthy Delicious Chicken Salad Recipe
Prep time: 30 minutes
Cook time: varies based on chicken cooking times
Yield: 8 servings
Serving size: 1/2 cup (3 oz)
>>> Discover The Best Kitchen Appliances That Make It Easy to Eat Healthier
Ingredients
1¼ lbs cooked chicken, shredded (about 3 cups)
1 cup celery, chopped (6-7 stalks)
½ cup pecans, chopped
1 cup grapes, rinsed + quartered (about 23 grapes)
¼ cup green onion, chopped
¾ cup light mayonnaise
½ tsp salt
½ tsp black pepper
½ tsp onion powder
Instructions
Cook the chicken according to package instructions. While chicken is cooking, chop the celery, pecans, grapes and green onions. Combine in a large bowl.
In a small bowl, mix together mayo, salt, black pepper and onion powder.
Once chicken has been cooked and cooled (about 10 minutes), use your hands to shred the chicken into the large bowl with the celery, pecans, grapes and green onions. Spoon the mayo mixture on top and stir until everything is evenly coated.
Nutrition Information
Per Serving (1/2 cup):
Calories: 198
Fat: 12g
Carbohydrates: 5g
Fiber: 2g
Protein: 15g
Sugars: 2g
Sodium: 449mg
Vitamin A: 2%
Vitamin C: 18%
Calcium: 4%
Iron: 6%
>>> Discover The Best Kitchen Appliances That Make It Easy to Eat Healthier