Chocolate Banana Protein Smoothie Recipe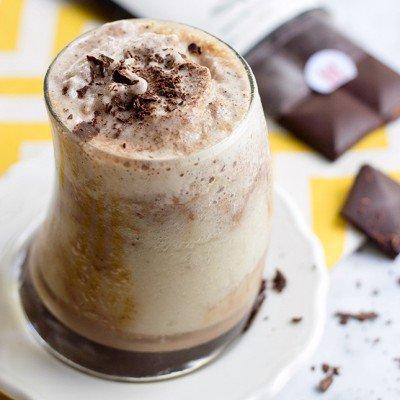 (Note: Some of the links in this post are affiliate links, and we will be compensated when you make a purchase by clicking through our links at no additional cost to you.)
Looking for a super delicious and high protein post workout snack? Take your next post workout snack to the next level with this Chocolate Banana Protein Smoothie! It is super easy to make, high in protein, creamy and super yummy!
Chocolate Banana Protein Smoothie Recipe
Prep time: 5 minutes
Cook time: none
Yield: 1 servings
Serving size: 1 smoothie
>>> Discover The Best Kitchen Appliances That Make It Easy to Eat Healthier
Ingredients
1 scoop chocolate whey protein powder
1 small ripe banana sliced (also works great if frozen)
1 tsp mini semi-sweet chocolate chips (or 1 square from a bar)
2 tsp stevia (or your favorite sweetener)
1½ cup crushed ice or 14-16 ice cubes
½ cup water
Instructions
Add all ingredients into a blender.
Blend until desired consistency and enjoy!
Nutrition Information
Per Serving: (1 smoothie)
Calories: 248
Calories from fat: 44
Fat: 5g
Saturated Fat: 1g
Cholesterol: 10mg
Sodium: 171mg
Carbohydrates: 32g
Fiber: 4g
Sugar 17g
Protein: 21g
Calcium: 1%
Iron: 2%
>>> Discover The Best Kitchen Appliances That Make It Easy to Eat Healthier