Butternut Squash Soup Recipe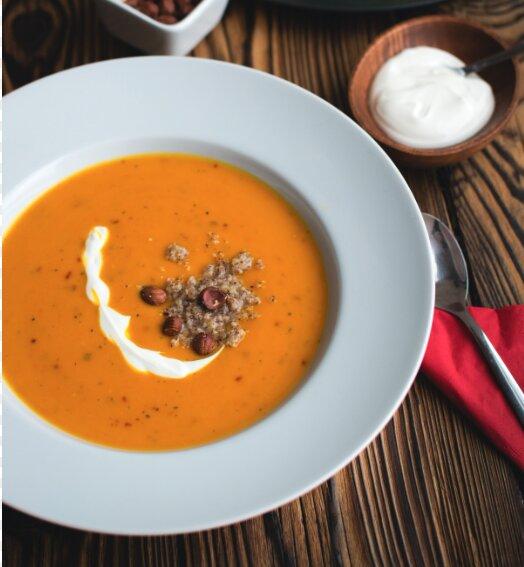 (Note: Some of the links in this post are affiliate links, and we will be compensated when you make a purchase by clicking through our links at no additional cost to you.)
If you're looking for a fall or Thanksgiving favorite to please everyone in the family, you've found it! This Butternut Squash Soup is a hearty, flavorful soup that we absolutely adore! A few apples, along with oven-roasted squash and onions pack this dish with tons of fall flavor! (Hate trying to cut into squash? Here is a quick tip: Pop your squash in the microwave for just 2-3 minutes to make cutting into it a breeze!)
Butternut Squash Soup Recipe
Prep time: 40 minutes
Cook time: 4 hours on high, 8 hours on low
Yield: 6 servings
Serving size: 1.5 cups
>>> Discover The Best Kitchen Appliances That Make It Easy to Eat Healthier
Ingredients
4 lb butternut squash
3 apples
1 sweet onion
32 oz can reduced-sodium chicken broth
2 bay leaves
1 Tbsp rosemary + garlic seasoning
½ tsp salt
¼ tsp black pepper
1 Tbsp extra virgin olive oil
Optional*:
• reduced-fat sour cream
• fresh chives, chopped
• peanuts
*Optional ingredients are not included in nutrition calculations.
Instructions
Preheat oven to 400 degrees.
Place butternut squash in microwave for 2-3 minutes to soften squash before slicing.
Slice the squash lengthwise down the center from top to bottom.
Scoop out seeds from squash.
Slice onion down center.
Spray a roasting pan with nonstick cooking spray.
Place squash halves and onion onto roasting pan. Sprinkle with extra virgin olive oil.
Bake squash and onions in oven for 35-40 minutes.
Remove squash and onions and allow to cool.
Peel and dice apples and add to crock pot.
After squash and onions have cooled, remove skin and chop squash. Add to crock pot. Dice onions and add to crock pot.
Add chicken broth, rosemary + garlic blend, salt and pepper to crock pot.
Stir all ingredients to mix and cook on high for 4 hours or on low for 8 hours.
After squash has cooked, remove bay leaves and using an immersion blender or blender, blend to desired consistency.
To serve, top with a Tbsp of light sour cream and fresh chives (optional).
Nutrition Information
Per Serving (1.5 cups):
Calories: 197
Fat: 2g
Carbohydrates: 46g
Fiber: 11g
Protein: 4g
Sugars: 17g
Sodium: 524mg
Vitamin A: 1%
Vitamin C: 9%
Calcium: 2%
Iron: 1%
>>> Discover The Best Kitchen Appliances That Make It Easy to Eat Healthier