Sesame Crusted Chicken Recipe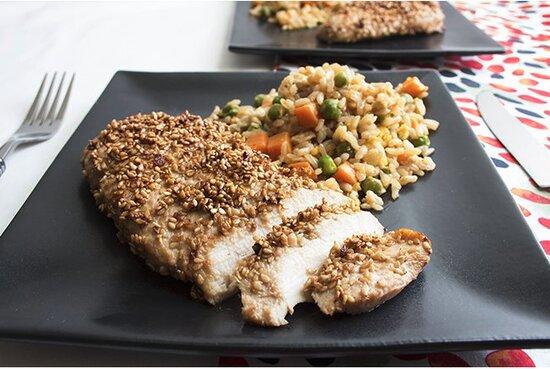 (Note: Some of the links in this post are affiliate links, and we will be compensated when you make a purchase by clicking through our links at no additional cost to you.)
We just love the way soy sauce and sesame seeds come together to make a nutty oriental flavor with just the right amount of crunch in this dinner! Heads up: This chicken marinates for 8 hours, so you have to plan ahead. But, after these have hung out in the fridge for a bit, they are on your plate within 10 minutes of taking them out of the marinade. Beyond the chicken being an awesome source of lean protein, the sesame seeds in this dish pack a seriously nutritious punch! You're going to want to start putting them in everything! Not only do they lower blood pressure and glucose, they are particularly good for your man's sexual health!
Sesame-Crusted Chicken
Prep time: 10 minutes + 8 hours to marinate chicken
Cook time: 10 minutes
Yield: 4 servings
Serving size: 1 chicken breast
>>> Discover The Best Kitchen Appliances That Make It Easy to Eat Healthier
Ingredients
2 Tbsp reduced-sodium soy sauce
1 Tbsp brown sugar
2 tsp garlic, minced
1 tsp sesame oil
4 — 4 oz boneless, skinless chicken breasts
½ cup sesame seeds
1 Tbsp extra virgin olive oil
1 Tbsp light butter
Instructions
In a small bowl, combine soy sauce, garlic, brown sugar and sesame oil and mix well. Add the chicken to a large, heavy-duty food plastic bag and pour the marinade over the chicken. Seal the bag, place flat on baking sheet and refrigerate for 8 hours.
When ready to eat, remove chicken from bag; discard marinade. Pour sesame seeds into shallow bowl. One at a time, coat chicken breasts in seeds on all sides. Set aside.
Heat olive oil and butter in a large skillet over medium heat. Add chicken and cook for 5 minutes. Carefully turn chicken and cook for an additional 3-6 minutes or until chicken is thoroughly cooked and sesame seeds are toasted. Serve immediately.
Nutrition Information
Per Serving: (1 chicken breast)
Calories: 245
Calories from fat: 63
Fat: 14g
Saturated Fat: 2g
Cholesterol: 65mg
Sodium: 362mg
Carbohydrates: 6g
Fiber: 0g
Sugar 6g
Protein: 26g
Calcium: 0%g
Iron: 0%
>>> Discover The Best Kitchen Appliances That Make It Easy to Eat Healthier