Peanut Butter and Chocolate Pretzel Bites Recipe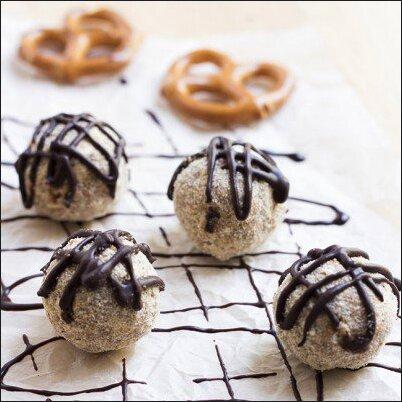 (Note: Some of the links in this post are affiliate links, and we will be compensated when you make a purchase by clicking through our links at no additional cost to you.)
Question: What do you get when you combine chocolate, peanut butter and pretzel? Answer: A decadent and sweet-tooth- satisfying snack. We love these simple pretzel treats and they are super easy to make.
Peanut Butter and Chocolate Pretzel Bites
Prep time: 10 minutes
Cook time: None
Yield: 4 servings
Serving size: 4 balls
>>> Discover The Best Kitchen Appliances That Make It Easy to Eat Healthier
Ingredients
1 cup old fashioned oats
¼ cup Better'n Peanut Butter®
1 Tbsp honey
1 tsp vanilla extract
40 unsalted mini pretzels
4 tsp dark chocolate chips
½ tsp water
Instructions
In a small bowl combine oats, Better 'n Peanut Butter, honey and vanilla extract.
Using a food processor, pulse 10 mini pretzels to a fine powder. Pour onto a shallow plate and set aside.
Use the food processor again to pulse the remaining 30 mini pretzels into quarter of an inch pieces. Add oat mixture and pulse until slightly smooth (like 5 short pulses). Don't over process or the batter will turn too runny to roll into balls. Spoon batter back in bowl.
Line a baking sheet with parchment paper. Using a teaspoon, scoop oat mixture into your hand and roll into a ball. The ball should be less than an inch round. Place ball in pretzel powder and roll until evenly coated. Place on baking sheet and then repeat the process until batter is gone.
Put chocolate chips in a small microwavable bowl. Use the defrost setting until chips soften — stirring every 20 seconds. When chips are melted, stir in ½ tsp of water. The chocolate should slide off the spoon easily — if it doesn't, add another ¼ tsp of water.
To drizzle the chocolate over the balls, carefully spoon chocolate into a pastry bag with a small tip. If a pastry bag isn't available, spoon chocolate into a Ziploc® bag and cut the tip off of one of the corners. Evenly drizzle chocolate over balls. Place the baking sheet so it is level in the freezer and freeze for 15-20 minutes.
Store balls in the freezer in a freezer safe bag or container.
Nutrition Information
Per Serving: 4 balls
Calories: 218
Calories from fat: 37g
Fat: 5g
Saturated Fat: 1g
Cholesterol: 0mg
Sodium: 220mg
Carbohydrates: 39g
Fiber: 3g
Sugar 8g
Protein: 7g
Calcium: 2mg
Iron: 10mg
>>> Discover The Best Kitchen Appliances That Make It Easy to Eat Healthier