Green Monster Smoothie Recipe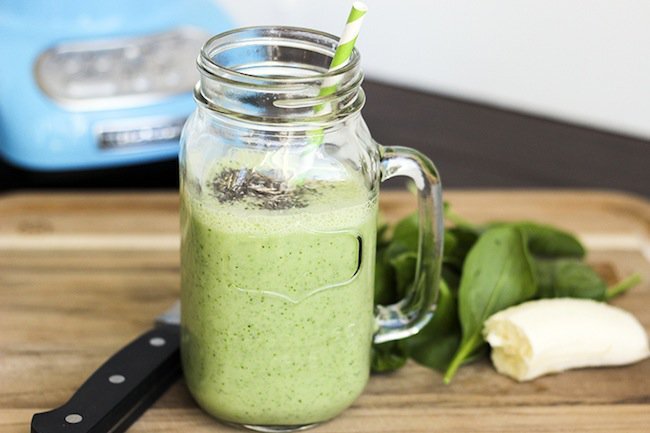 (Note: Some of the links in this post are affiliate links, and we will be compensated when you make a purchase by clicking through our links at no additional cost to you.)
This smoothie is the perfect way to start your day! This Green Monster Smoothie is seriously so yummy! Don't let the name make you nervous, this monster is made of vitamins and nutrients that will help with digestion and give you an instant energy boost when you need a mid-day jolt or morning pick-me-up. While the spinach gives this guy its color, all the flavor comes straight from the banana and almond milk, making this a creamy, flavorful and super nutrient-dense breakfast or post-run/workout drink.
Green Monster Smoothie Recipe
Prep time: 5 minutes
Yield: 1 serving
Serving size: 1 smoothie
>>> Discover The Best Kitchen Appliances That Make It Easy to Eat Healthier
Ingredients
1 cup unsweetened almondmilk
1 very ripe banana, frozen if possible and sliced
2 handfuls green spinach
1 Tbsp Chia seeds
1 scoop vanilla protein powder
Optional*:
• 1 Tbsp natural peanut butter
*Optional ingredients are not included in nutrition calculations.
Instructions
Add all ingredients to blender.
Add in ¾ cup chopped ice cubes.
Blend on medium speed for 30 seconds to 1 minute until all ingredients are mixed well.
Nutrition Information
Per Serving (1 smoothie):
Calories: 339
Fat: 11g
Carbohydrates: 42g
Fiber: 13g
Protein: 28g
Sugars: 15g
Sodium: 419mg
Vitamin A: 2%
Vitamin C: 17%
Calcium: 7%
Iron: 6%
>>> Discover The Best Kitchen Appliances That Make It Easy to Eat Healthier