Buffalo Chicken Bites Recipe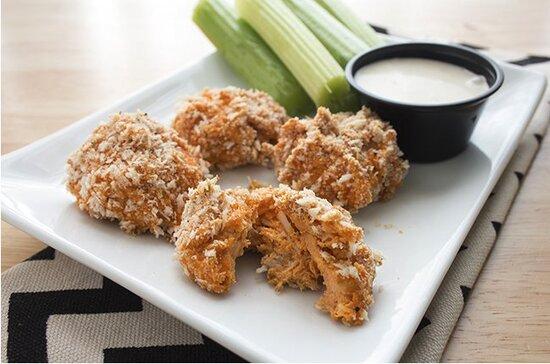 (Note: Some of the links in this post are affiliate links, and we will be compensated when you make a purchase by clicking through our links at no additional cost to you.)
I love anything buffalo chicken flavored and after making this recipe, I have found my new go-to appetizer! It tastes just like the dip, but this recipe is chip-free! The breadcrumbs create the crunch that the chips would add otherwise.
Buffalo Chicken Bites
Prep time: 1 Hour + 10 minutes
Cook time: 20 – 25 minutes
Yield: 17 servings
Serving size: 2 buffalo chicken bites
>>> Discover The Best Kitchen Appliances That Make It Easy to Eat Healthier
Ingredients
1 cup hot sauce (I use Frank's Red Hot brand)
4 oz reduced-fat cream cheese
3 The Laughing Cow® Blue Cheese Flavored Wedges
4 boneless, skinless chicken breasts (cooked and finely shredded )
½ cup reduced-fat, shredded sharp cheddar cheese
¼ cup scallions, finely chopped
⅔ cup Panko breadcrumbs
⅔ cup whole wheat breadcrumbs
1 tsp salt
1 tsp black pepper
1 tsp garlic powder
Instructions
In a large mixing bowl, use an electric mixer to mix hot sauce, cream cheese, and The Laughing Cow® Cheese wedges.
Add shredded chicken, sharp cheddar cheese, and scallions to hot sauce mixture and stir with a spoon until mixed.
Cover with plastic wrap and place in refrigerator for one hour.
Preheat oven to 350 degrees. Line a baking sheet with parchment paper and set aside.
Using a Tbsp, form buffalo chicken mixture into 34-36 bite size balls.
In a separate bowl, combine Panko breadcrumbs, whole wheat breadcrumbs, salt, pepper and garlic powder and mix.
Roll each ball in the breadcrumb mixture and place on parchment paper. Spray lightly with cooking spray.
Bake for 20-25 minutes or until golden brown.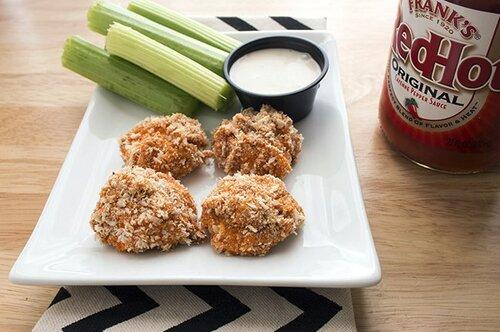 Nutrition Information
Per Serving (2 buffalo chicken bites):
Calories: 86
Fat: 3g
Carbohydrates: 3g
Fiber: 0g
Protein: 8g
Sugars: 0g
Sodium: 681mg
Vitamin A: 10%
Vitamin C: 1%
Calcium: 4%
Iron: 0%
>>> Discover The Best Kitchen Appliances That Make It Easy to Eat Healthier