Baked Zucchini Chips Recipe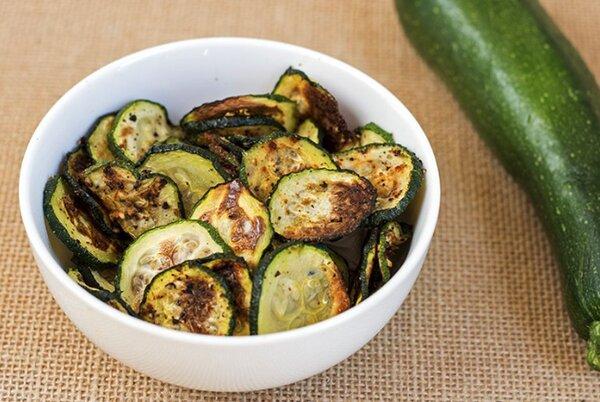 (Note: Some of the links in this post are affiliate links, and we will be compensated when you make a purchase by clicking through our links at no additional cost to you.)
Why hit the vending machine when you can have a healthy and super yummy snack? Move over potato chips – there's a new veggie chip in town!
The key for successful zucchini chips is to not cut them too thick or too thin (between 1/8″ – 1/4′" is ideal), and to not drench them in oil. Cooking times will vary by thickness and baking pan heaviness. In other words, they demand your attention so keep an eye on them when baking. They may have to be rotated around the tray to prevent the ones around the edges from burning. If done right, they are a beautiful golden color with a light crunch to go with it. They are my new favorite veggie chips, so I'm excited to hear what you all think about them!
Baked Zucchini Chips Recipe
Prep time: 5 minutes
Cook time: 30 minutes
Yield: 1 servings
Serving size: 30 chips
>>> Discover The Best Kitchen Appliances That Make It Easy to Eat Healthier
Ingredients
1 small zucchini, sliced ⅛ – ¼-inch thick
2 tsp extra virgin olive oil
salt and pepper to taste
Instructions
Preheat oven to 450 degrees. Lightly mist one baking sheet with cooking spray.
Slice zucchini into ⅛ – ¼-inch thick rounds. Toss zucchini with olive oil to coat evenly and place zucchini on baking sheet. Sprinkle on salt and pepper.
Bake zucchini rounds until browned and crisp, about 25 to 30 minutes, flipping each over halfway through. Check on them often as cooking times may vary. Rotate the chips around the baking sheet if needed.
Once done, let cool and store at room temperature. Enjoy the same day for best crunch!
Nutrition Information
Per Serving: (30 chips)
Calories: 88
Fat: 9g
Carbohydrates: 2g
Fiber: 1g
Net Carbs: 1g
Protein: 1g
Sugars: 0g
Sodium: 85mg
Vitamin A: 0%
Vitamin C: 0%
Calcium: 0%
Iron: 0%
>>> Discover The Best Kitchen Appliances That Make It Easy to Eat Healthier