A Beginner's Guide: 8 Tips To Transition Into Your New Workout Routine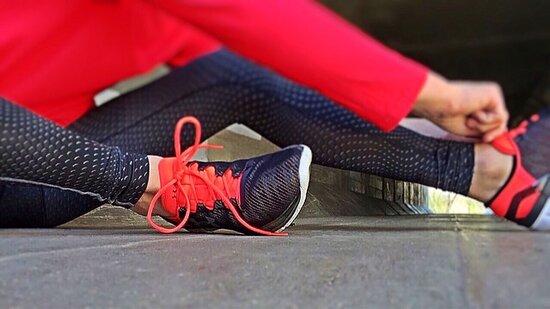 (Note: Some of the links in this post are affiliate links, and we will be compensated when you make a purchase by clicking through our links at no additional cost to you.)
If you are new to this whole work out thing, don't you worry! We've got you covered with everything you need to consider before throwing yourself into the big "ocean" of fitness! It may feel overwhelming at first, but everyone starts somewhere so don't panic. Read on to learn 8 great tips to transition into your new workout routine!
1) Prepare your mind!
Know your why. Why do you want to start working out? Is it to be more healthy, tone up, lower your blood pressure, develop a better self-image? Whatever that "why" is, that's where you can start. Also, prepare your mind to do work! Changes do not happen over night! It will take some time to get there.
2) It's super important that you are eating whole foods.
Don't waste the time you are working out with not eating right. You will not get the results you want by feeding your body over processed foods. NEVER starve your body in hope to lose weight. That will come right back at you with low energy, mood swings, weight gain, bad metabolism, etc. Be in this for the long haul; make it your lifestyle and work on balancing healthy eating and exercise.
3) Ask for help!
I'm sure you have someone in your family that is a health-nut or a friend who works out. Ask them if you could join them in what they like or if they can show you around at the gym. Never be afraid to ask for professional help from a personal trainer or coach. They want to help you; they are there to help you. You might as well learn the right way from the beginning.
4) Pick an exercise that is fun!
If you haven't found anything that makes you super excited at home or the gym, keep trying new things! Try running, lifting weights, kick boxing, dance class, zumba, body pump or another class or style. Remember, working out may not be super fun at first. It's hard. It's a change. It's something you need to commit to. But, the good thing is, the more you do it, the better you'll get at it and the more you'll crave that endorphin rush. You will eventually feel like you have to work out instead of feeling the dread and anxiety. And the better you get, the more fun you will have!
5) Listen to music!
Music should get any lazy tush up and moving, and it can push you to go faster, harder, stronger, etc. Music makes everything more fun!
6) Wear the right shoes!
Shoes are super important to prevent injuries. Depending on what workout you are doing, make sure the shoes fit!
7) Reward yourself!
But not with FOOD! Set a goal, stick to it and work hard. Then make it fun by buying new exercise clothes, a new water bottle or whatever else you might need. There's just something about getting a little "kudos" for working hard!
>>> Discover the Top Water Bottles For Workouts and Everyday Hydration
8) Just start!
The best time to start is now. No need to wait to begin until the next Monday, or until after vacation, etc. Just start and take it one step at a time. Nike sure got it right: JUST DO IT!
All information provided by RunderWomen.com is of a general nature and is furnished for educational purposes only. You should not rely on this information as a substitute for, nor does it replace, professional medical advice, diagnosis, or treatment. If you have any concerns or questions about your health, you should always consult with a physician or other health-care professional. Do not disregard, avoid or delay obtaining medical or health related advice from your health-care professional because of something you may have read on this site. YOU ARE ENCOURAGED TO CONFER WITH YOUR PHYSICIAN OR HEALTHCARE PROVIDER WITH REGARD TO INFORMATION CONTAINED ON OR THROUGH THIS WEB SITE. AFTER READING ARTICLES OR OTHER CONTENT FROM THIS WEB SITE, YOU ARE ENCOURAGED TO REVIEW THE INFORMATION CAREFULLY WITH YOUR PROFESSIONAL HEALTHCARE PROVIDER. The use of any information provided on this site is solely at your own risk.