6 Exercises To Help Relieve Sciatica (Video)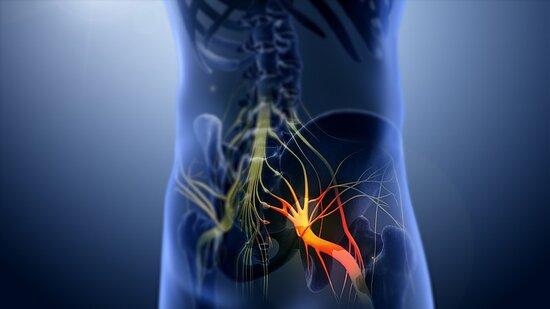 (Note: Some of the links in this post are affiliate links, and we will be compensated when you make a purchase by clicking through our links at no additional cost to you.)
Are you currently experiencing sciatica? Then check out these 6 exercises from Dr. Katie Clare, DC to help relieve sciatica.
The Mayo Clinic defines sciatica as pain that radiates along the path of the sciatic nerve (the largest nerve is the body), which branches from your lower back through your hops and buttocks and down each leg. Typically, sciatica affects only one side of your body.
According to Clare, the leading cause of sciatica symptoms is a lumbar disc herniation/bulge. People experiencing sciatica symptoms generally report the following:
shooting pain from the low back, glutes or along the path of the sciatic nerve
weakness in the leg
numbness/tingling down the leg, into the foot
symptoms aggravating with being seated
Clare also wanted to remind people that "sciatica" is a symptom, NOT a condition. So nope, you don't "have" sciatica; you have some other condition causing sciatica (like a disc injury).
Here are the 6 exercises. Be sure to check out Dr. Clare's video below on how to perform these exercises!
>>> Discover the Top Massage Guns for Muscle Soreness and Recovery
1) Prone press up (perform 15-20x).
2) Supine pigeon 45 seconds hold.
3) Hip switch (perform 15x).
4) T Spine rotation (perform 10x).
5) Sciatic nerve floss (perform 15x).
6) Single leg bridge (perform 12x).
>>> Discover the Top Products to Sooth Sore Muscles
All information provided by RunderWomen.com is of a general nature and is furnished for educational purposes only. You should not rely on this information as a substitute for, nor does it replace, professional medical advice, diagnosis, or treatment. If you have any concerns or questions about your health, you should always consult with a physician or other health-care professional. Do not disregard, avoid or delay obtaining medical or health related advice from your health-care professional because of something you may have read on this site. YOU ARE ENCOURAGED TO CONFER WITH YOUR PHYSICIAN OR HEALTHCARE PROVIDER WITH REGARD TO INFORMATION CONTAINED ON OR THROUGH THIS WEB SITE. AFTER READING ARTICLES OR OTHER CONTENT FROM THIS WEB SITE, YOU ARE ENCOURAGED TO REVIEW THE INFORMATION CAREFULLY WITH YOUR PROFESSIONAL HEALTHCARE PROVIDER. The use of any information provided on this site is solely at your own risk.