3 Simple Exercises for Tight Hamstrings (Video)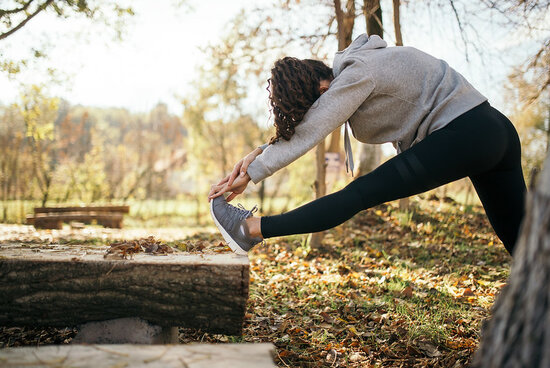 (Note: Some of the links in this post are affiliate links, and we will be compensated when you make a purchase by clicking through our links at no additional cost to you.)
Are you suffering from tight hamstrings? You need to check out these 3 exercises from Dr. Stacie Barber, DPT, CSCS,FRC,USAW.
So how do you know if you have tight hamstrings? According to Barber, here is one simple test you do at home to see if you have tight hamstrings.
>>> Discover the Top Products to Sooth Sore Muscles
Straight Leg Raise Test.
Lay on your back and do the straight leg raise test! Grab the back on one leg and hold it up to about 90 degrees as you straighten the leg. Can you get the leg completely straight? Many people cannot.
Here is a great exercise routine to help you loosen your tight hamstrings. Barber said that these 3 exercises can also work the groin and that pesky sciatic nerve since sometimes these contribute to hamstring tightness as well! Be sure to check out Dr. Barber's video below on how to perform these exercises correctly. Perform 1-2 rounds of 10-15 reps. This should take you around 5-10 minutes to complete.
>>> Discover the Top Massage Guns for Muscle Soreness and Recovery
1) Kneeling Cross Body Hamstring Mobilization.
2) Pancake Lean Combo.
3) Loaded Hamstring to Squat Combo.
"Don't just speed through these movements, slow them down and really learn how to control each position," Barber reminded. "After all, mobility is all about control."

Read >>> Why You Should Stretch After Your Workout
All information provided by RunderWomen.com is of a general nature and is furnished for educational purposes only. You should not rely on this information as a substitute for, nor does it replace, professional medical advice, diagnosis, or treatment. If you have any concerns or questions about your health, you should always consult with a physician or other health-care professional. Do not disregard, avoid or delay obtaining medical or health related advice from your health-care professional because of something you may have read on this site. YOU ARE ENCOURAGED TO CONFER WITH YOUR PHYSICIAN OR HEALTHCARE PROVIDER WITH REGARD TO INFORMATION CONTAINED ON OR THROUGH THIS WEB SITE. AFTER READING ARTICLES OR OTHER CONTENT FROM THIS WEB SITE, YOU ARE ENCOURAGED TO REVIEW THE INFORMATION CAREFULLY WITH YOUR PROFESSIONAL HEALTHCARE PROVIDER. The use of any information provided on this site is solely at your own risk.
Feature Image credit: Nenad Stojkovic (https://www.flickr.com/photos/nenadstojkovic/50570028893)