3 Exercises to Strengthen Your Gluteus Medius (Hip) – Video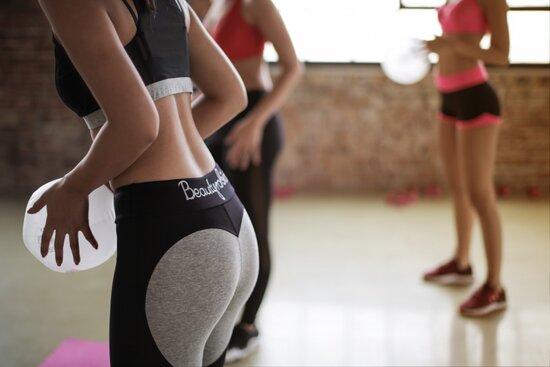 (Note: Some of the links in this post are affiliate links, and we will be compensated when you make a purchase by clicking through our links at no additional cost to you.)
Do you have weak hips or gluteus Medius? When performing squats do you feel wobbly? Or do your knees cave in? If you answer yes to these questions, it may mean that you have weak hip muscles, especially your glute medius. Be sure to check out these 3 gluteus medius strengthening exercises from Dr. Adam McCluskey, PT, DPT.
According to McCluskey, "The gluteus medius is one of your 3 glute muscles and plays an important role in hip stability (especially in the frontal plane). Anytime you stand on 1 leg, that side gluteus medius is working to keep your hip from dropping." He adds, "One of the best ways to challenge the glute medius is to perform dynamic single leg focused exercise that keeps the hips from dropping."
Here are the 3 exercises. Be sure to check out Dr. McCluskey's video below on how to perform these exercises!
>>> Discover the Top Massage Guns for Muscle Soreness and Recovery
1) Single Leg Romanian Deadlift (RDL) with Foam Roller (3 sets X 10 reps on each side).
2) Captain Morgans with ball (3 sets X 10 reps on each side.
3) Side Plank Lifts (3 sets X 10 reps on each side).
"The first 2 exercises use a foam roller and ball as external feedback to engage the glute medius. These tools can be helpful when you are trying to focus on that muscle activating while stabilizing on one leg," explained McCluskey. "The last exercise is great for the glutes, but can be done incorrectly if you're not careful. Use the wall to slide the heel on, to make sure that Glute medius is doing the work!"

>>> Discover the Top Products to Sooth Sore Muscles
All information provided by RunderWomen.com is of a general nature and is furnished for educational purposes only. You should not rely on this information as a substitute for, nor does it replace, professional medical advice, diagnosis, or treatment. If you have any concerns or questions about your health, you should always consult with a physician or other health-care professional. Do not disregard, avoid or delay obtaining medical or health related advice from your health-care professional because of something you may have read on this site. YOU ARE ENCOURAGED TO CONFER WITH YOUR PHYSICIAN OR HEALTHCARE PROVIDER WITH REGARD TO INFORMATION CONTAINED ON OR THROUGH THIS WEB SITE. AFTER READING ARTICLES OR OTHER CONTENT FROM THIS WEB SITE, YOU ARE ENCOURAGED TO REVIEW THE INFORMATION CAREFULLY WITH YOUR PROFESSIONAL HEALTHCARE PROVIDER. The use of any information provided on this site is solely at your own risk.